Glenn Beck told the Dalai Lama about his "Never Again Is Now" initiative on Wednesday, describing it as an event to "bring different faiths together without mixing our theology." Beck plans to deliver aid to victims of persecution in the Middle East and do a series of church tours in America starting in Birmingham, Alabama on August 28th.
"He said that that is one of the biggest heartbreaks of his life right now, that we are dividing ourselves, that we're being so foolish by dividing ourselves," Beck related. "Any good religion has the same goal, and that is happiness, love and peace. And if we can't unite on that goal as humans -- because he said everybody on earth needs to recognize that we're all equal, that we are all the same, we're all human. We're all born, and we all want to be happy."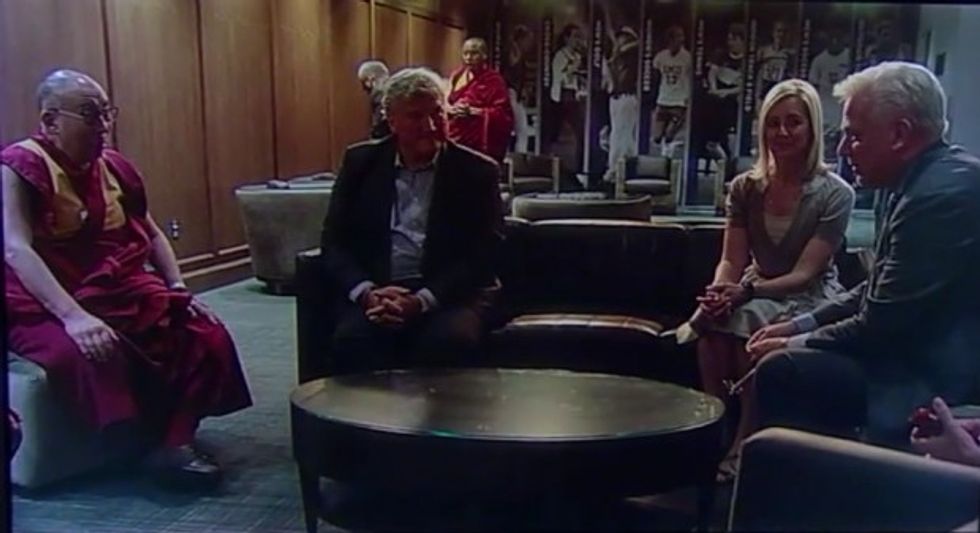 Glenn Beck meets the Dalai Lama on July 1, 2015. (Photo: TheBlaze TV)
The Dalai Lama said there are always "troublemakers," but we have to get "back to the basics because this is not good for our future, to be so self-centered if we want to have each other to lean on."
"He counseled that we begin to be friends again," Beck concluded. "He said friendship comes from trust. Trust comes from caring for and serving others."
The Dalai Lama was in Dallas for an event at Southern Methodist University hosted by the George W. Bush Presidential Center and SMU in conjunction with the World Affairs Council of Dallas/Fort Worth, according to the Dallas Morning News. More than 5,000 people came to hear him speak.
The full episode of The Glenn Beck Program, along with many other live-streaming shows and thousands of hours of on-demand content, is available on just about any digital device. Click here to watch every Glenn Beck episode from the past 30 days for just $1!