UPDATE 12:15 a.m. ET: Here's a look at the house where the deck collapse reportedly occurred: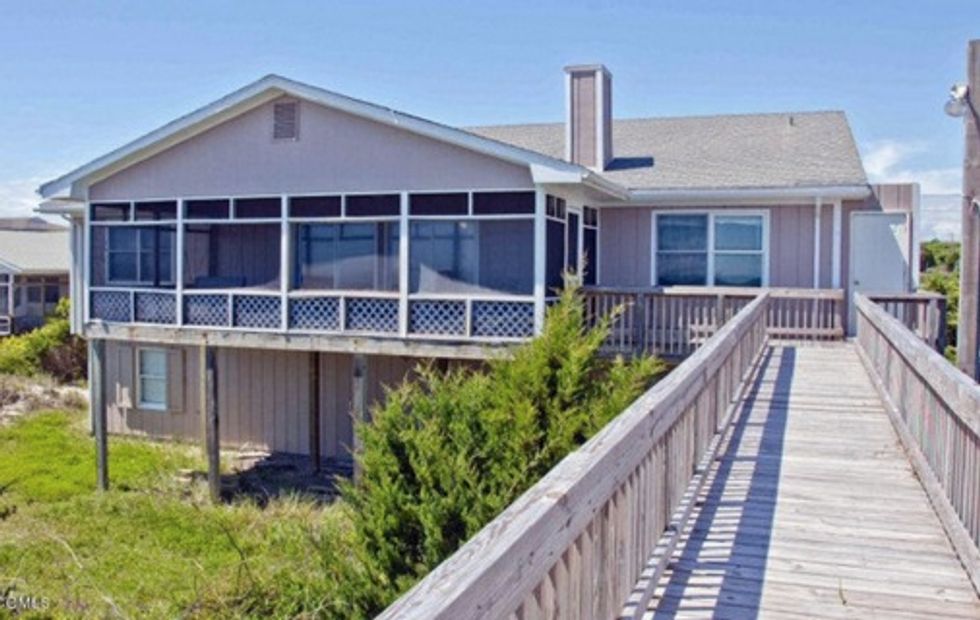 Image source: Zillow
The six-bedroom house is for sale for $1.1 million, WNCT-TV reported via the website Zillow, and rents for over $3,000 a week during the high season, according to Bluewater Rentals.
The family members were vacationers mostly from Virginia, WCTI-TV said.
—
UPDATE 10:50 p.m. ET: Video from WTVD-TV of the aftermath of the deck collapse:
—
UPDATE 10:15 p.m. ET: WTVD-TV in Raleigh-Durham reported that Carteret General Hospital said it's treating 16 patients, three of whom are in critical condition.
The station reported that another person reportedly in critical condition was flown to New Hanover Regional Medical Center and a second to Vidant Medical Center in Greenville — a total of 18 hurt.
Area hospitals reporting 18 total injuries in Emerald Isle deck collapse. 5 are critical http://t.co/CT6BWcXhhipic.twitter.com/Run0E6uD5s

— ABC11 EyewitnessNews (@ABC11_WTVD) July 5, 2015
—
UPDATE 9:28 p.m. ET: A family was posing for a photo when the deck collapsed, Emerald Isle police told WNCT-TV.
25 injured, 3 critically after beach house deck collapses in N.C. http://t.co/YqgNsuWr57pic.twitter.com/MMa51KkHxx

— 8News WRIC Richmond (@8NEWS) July 5, 2015
Police also told the station at least 14 people were injured and one was taken to New Hanover Regional Medical Center in Wilmington.
—
UPDATE 9:16 p.m. ET: Six people were critically injured in the North Carolina deck collapse, the Charlotte Observer reported. The paper added that 21 people were injured.
Original story below
Over 20 people were injured, some critically, when a deck collapsed Saturday evening at a beach house in Emerald Isle, North Carolina.
Carteret General Hospital told WNCT-TV in Greenville that 25 people were injured and three are in critical condition at their facility. The station added that two others were taken elsewhere for treatment.
The collapse occurred at a home along Ocean Drive, WNCN-TV reported, adding that initial reports indicated that over 20 people were on the deck when it collapsed.
A medical helicopter was seen on video responding to the incident:
Helicopter landing for serious incident in #EmeraldIsle#BreakingNews#PrayingForThoseInvolvedpic.twitter.com/WYUczcQxpI

— Travis Johnson (@gr8tweetz) July 5, 2015
This is breaking news; updates will be added.
—
Follow Dave Urbanski (@DaveVUrbanski) on Twitter