A Florida pastor was attacked in his church while he was teaching Sunday School by a man he didn't even recognize at first.
Police say Pastor Max Hawkins' nephew walked up to the pulpit during the lesson — which was reportedly on "no rest for the wicked" — and began to threaten his uncle.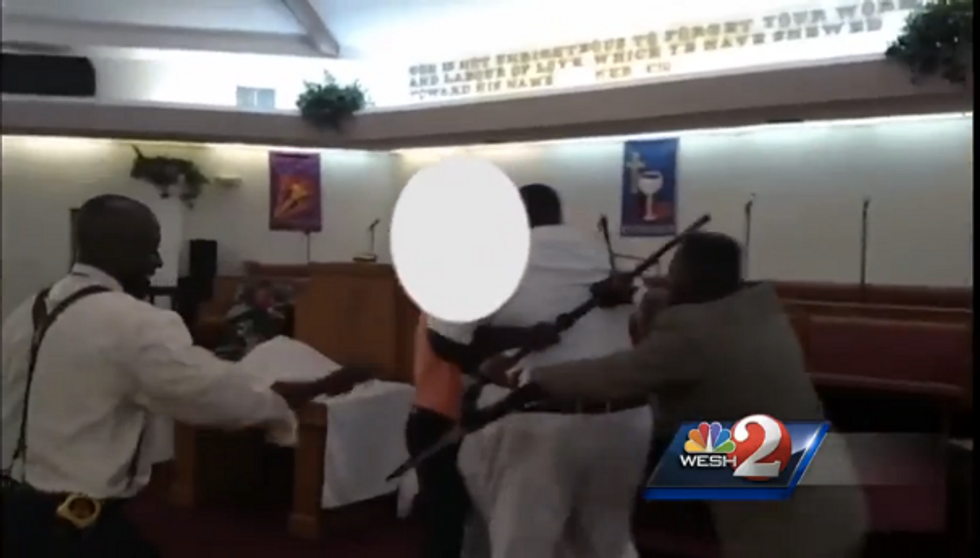 Image source: WESH-TV
"He threw his Bible in the midst of the floor, and he said 'I am God,'" Ernest Rich, Sunday School superintendent at Madison Heights Church of God in Christ in Daytona Beach, told WESH-TV. Rich used a music stand in his attempt to subdue and hold back Hawkins' nephew.
According to police, Hawkins' nephew, 39, has been diagnosed with schizophrenia and has not taken his medication since April.
Hawkins told WESH that his nephew tried to take over the pulpit Sunday morning during his outburst. His nephew was eventually restrained by several male church members who held him to the ground as they called the police. He was then transported to a hospital for a mental health evaluation.
"He came right at me as the leader of the church," Hawkins said.
According to WESH, Hawkins did not recognize his nephew right away as he hasn't seen him for several years.
Members of the church said they've been on alert and more aware of their surroundings ever since a gunman in Charleston, South Carolina murdered nine members of a historically black church during a Bible study in June. 
According to the Daytona Beach News-Journal, no one was injured during Sunday morning's escapade. Hawkins declined to press charges against his nephew who was unarmed.
(H/T: WESH-TV)