Evangelist Franklin Graham, son of famed preacher Billy Graham, decried a decision by Oregon officials to fine bakers Aaron and Melissa Klein $135,000 for refusing to make a wedding cake for a lesbian couple, calling it "unbelievable."
"Brad Avakian, Oregon's Bureau of Labor & Industries Commissioner, upheld the ruling that the Kleins have to pay the lesbian couple $135,000 for a long list of alleged damages including: 'acute loss of confidence,' 'high blood pressure,' 'impaired digestion,' 'loss of appetite,' 'migraine headaches,' 'pale and sick at home after work,' 'resumption of smoking habit,' 'weight gain,' and 'worry,'" Graham wrote. "Give me a break."
The evangelist said that, in his opinion, it should be Rachel Cryer-Bowman and Laurel Bowman-Cryer — the women who were refused a cake by the bakery — who, instead, write a $135,000 check to the Kleins for "all they've been through."
Graham also claimed that Avakian has "ordered the Kleins to 'cease and desist' from speaking publicly about not wanting to bake cakes for same-sex weddings based on their Christian beliefs" — an act that he said is a direct assault on free speech.
He encouraged Christians to pray for the family and for other Bible-believers who find themselves in similar situations here in America.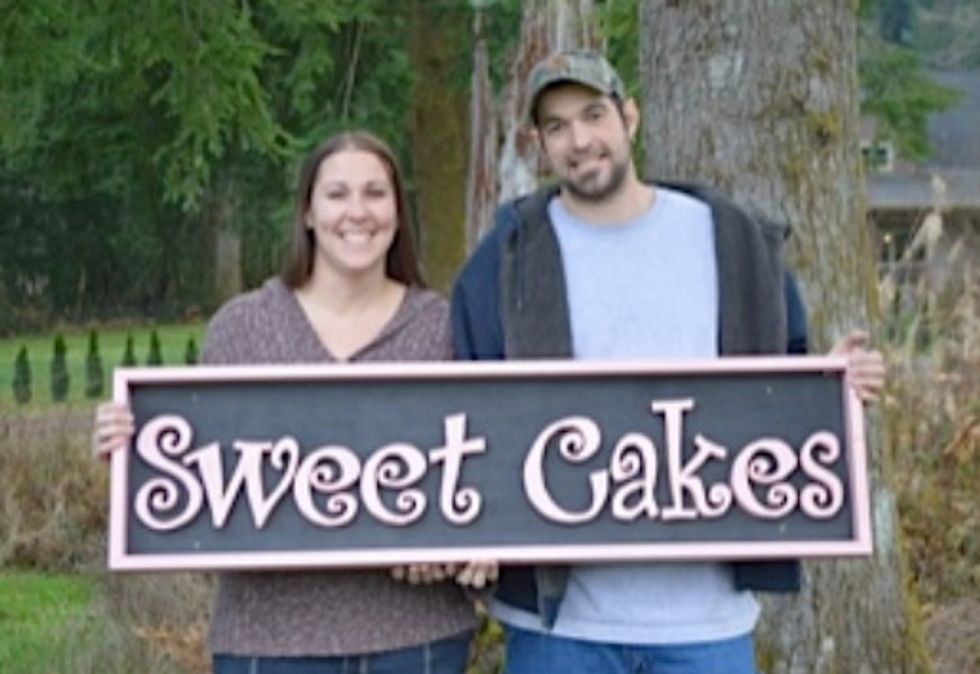 Melissa and Aaron Klein, owners of Sweet Cakes by Melissa (Sweet Cakes by Melissa)
As TheBlaze previously reported, Aaron Klein said just hours after officials announced that he and his wife, owners of Sweetcakes by Melissa, would be fined $135,000 that he has no plans of backing down.
"He wants to silence anyone who opposes his point of view," Klein told TheBlaze, speaking specifically about Avakian. "Unfortunately, he's doing this with the wrong Christian, because I fight back."
Read more from that interview here.