While attending a festival Saturday, a Baltimore woman dumped what appeared to be a large cup of water on Mayor Stephanie Rawlings-Blake.
Police say Lacheisa Pailin-Sheffer ran up to Rawlings-Blake while at the festival and poured a cup of liquid over her head. Pailin-Sheffer, 37, was arrested and charged with second-degree assault, according to WJZ.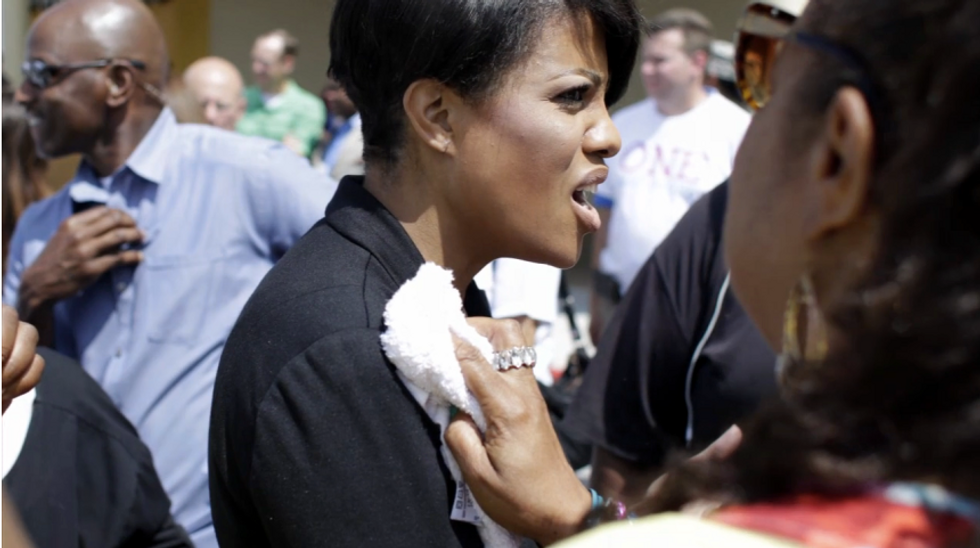 Baltimore Mayor Stephanie Rawlings-Blake was dried off after police say a woman dumped a cup of liquid over her head. (Image source: Baltimore Sun video)
Rawlings-Blake reportedly continued on with her appearance at the Mondawmin Festival, located in a Baltimore neighborhood that was a notorious area during April's riots, after her aides dried her off.
"I didn't know what it was that she threw at me. I hope it was water," Rawlings-Blake, who was unhurt, told the Baltimore Sun after the incident. "It was more shocking than anything else."
Here's a pic of woman who splashed water on mayor. No word if Oriole Bird is an accomplice http://t.co/Xm9ncf7KYv pic.twitter.com/igV8voLscC

— Justin Fenton (@justin_fenton) July 11, 2015
Howard Libit, her spokesman, told the Baltimore Sun that Saturday's incident would not deter the mayor from any other public appearances.
"She enjoys opportunities like this to engage with the people of Baltimore," Libit said. "This was an odd, random incident. Things like this happen."
Rawlings-Blake had come under fire in the previous months for her handling of the riots and looting that occurred in Baltimore following the death of Freddie Gray, a 25-year-old black man, while in police custody. She was also criticized for some remarks she made during that time.
Last week, Rawlings-Blake fired Police Commissioner Anthony Batts amid growing homicide rates in the city.