The Islamic State group posted video over the weekend offering new evidence for could rank as its worst atrocity committed in Iraq.
New barbaric images of last summer's Tikrit massacre, which may be the group's largest one-day murder spree, show rows of men being shot as they were positioned face down in a ditch.
Elsewhere others were shot, then pushed head-first into the Tigris River, with one of the jihadi group's gunmen appearing to be just a boy.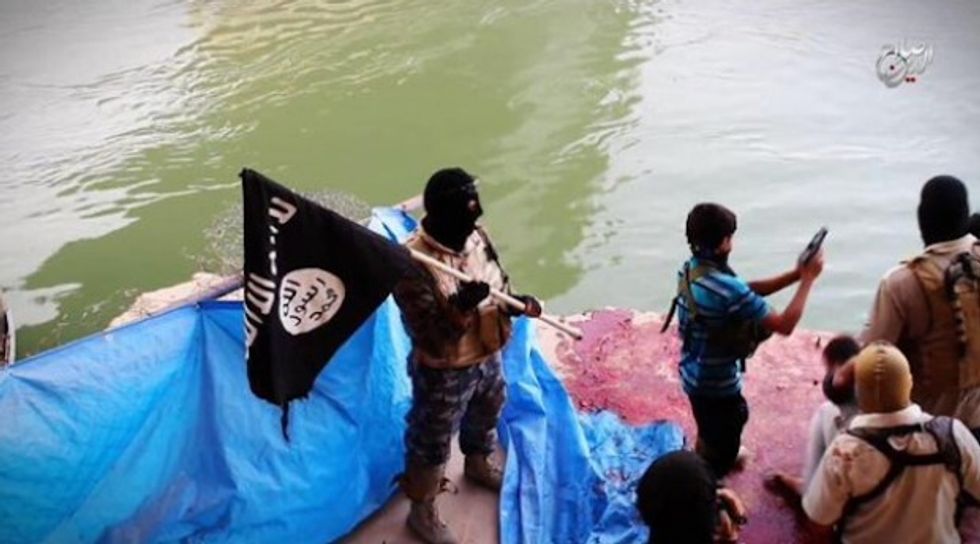 Image source: Twitter/ZaidBenjamin
Screenshots of the horrific scenes were posted online by those who track the Islamic State group's social media activity.
Men were recorded as they pleaded to be spared from the firing squad, with some saying they had only recently joined the Iraqi army.
Agence France-Presse reported that the 22-minute video included both new and previously released footage:
The grisly footage shows executions on an industrial scale, with victims falling out of dump trucks and later lying side by side in shallow mass graves before being shot dead one by one.

The killing went on into the night and the video shows an excavator being used to move piles of bodies.
It is estimated that as many as 1,700 Iraqi military recruits were killed that June day after being captured at the Speicher military base in Tikrit that once served U.S. troops.
The Iraqi government has so far exhumed 600 bodies.
"This is a message I address to the whole world and especially to the Rafidha dogs, I tell them we are coming," said an Islamic State fighter in the video, referring to a derogatory term for Shiite Muslims.