An influential newspaper affiliated with Iran's supreme leader recently published an editorial claiming that Iran could destroy the White House "in under 10 minutes."
The piece was published last month while negotiators from the U.S. and five world powers were engaged in intense talks with Iranian officials to try to forge an agreement aiming to curb Iran's nuclear aspirations.
According to a translation published by the Middle East Media Research Institute, the editorial called the U.S. the "Great Satan" and expressed a hope that America had "fallen onto his deathbed." It also likened those in the U.S. and Britain to "infidels."
"Let us have faith that America is incapable of any misstep [against Iran], and that it cannot even attack Iranian facilities without the White House being destroyed in under 10 minutes," the editors of the Kayhan daily wrote.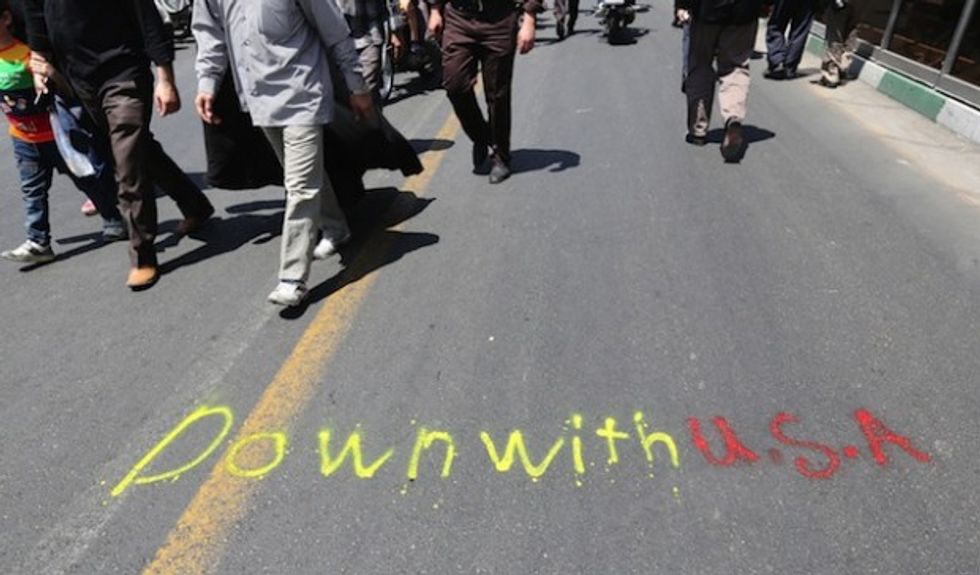 Iranians walk past graffiti on a street during a demonstration to mark the Al Quds (Jerusalem) Day in Tehran, July 10, 2015. (Atta Kenare/AFP/Getty Images)
Anti-American sentiment in Iran was also evident during commemorations for the Iranian holiday of Al Quds Day on Friday, where demonstrators burned U.S. and Israeli flags and chanted "death to America" and "death to Israel."
Another excerpt of the editorial read:
Let us have faith that the old "village leader" [i.e. the U.S.] has fallen onto his deathbed, and that even in his youth, he never made the mistake [of daring to attack Iran], and that he, like Israel, remains mired in quicksand. Let us have faith that Britain is a wily fox, and that its laughter is deceptive. Let us have faith in the Koran that says that the enemies are not men of their word, and that God has not permitted the infidels to gain supremacy over the believers.
The editorial praised 175 Iranian divers who were reportedly buried alive with their hands tied behind their backs during the Iran-Iraq war of the 1980s. Their bodies were returned to Iran in May. The editors wrote that it's "better to die" than to "submit to Satan":
They knew that war is war, and that dying in the path of God is one kind of victory. They convey to us that it is better to die, even with bound hands, than to be humiliated [by the enemy], and that it is inconceivable for us to submit to Satan.
Kayhan asserted that the Muslim holiday month of Ramadan was a time to emulate the "martyrs" and redeem Islam "which is entangled by the Jews' deception" and by the trickery of the U.S. – "The Great Satan" - and Britain – "the wily fox."
According to MEMRI, the editorial was published June 17 to mark the beginning of Ramadan.