Could the internment camps like those used to detain Japanese Americans during WWII be coming back? According to retired four-star General Wesley Clark, a WWII-era solution for dealing with people he thinks "don't support the United States" would be to "segregate them from the normal community for the duration of the conflict."
Clark made the suggestion on MSNBC last weekend. In an interview with the network's Thomas Roberts, the former Obama surrogate and staunch supporter of Hillary Clinton was quite clear.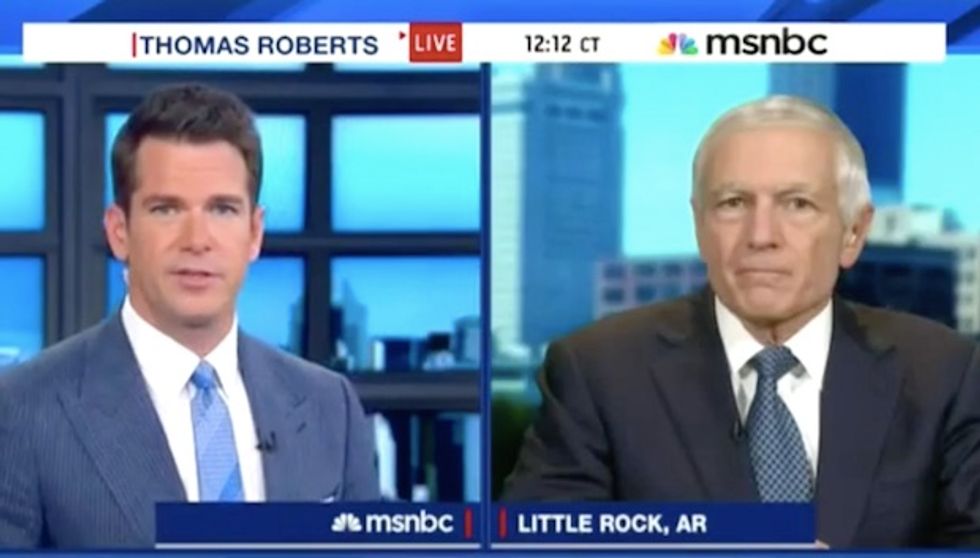 Image source: YouTube
Roberts asked Clark, "So, how do we fix self-radicalized, lone wolfs, domestically?"
The 38-year veteran talked about being able to "identify the people who are most likely to be radicalized." While not using the term "radical Islamists," Clark said, "We are at war with this group of terrorists." Adding, "They do have an ideology."
It was after that statement the general likened his plan of action to what America did in WWII. "In World War II, if someone supported Nazi Germany at the expense of the United States, we didn't say that was freedom of speech, we put them in a camp. They were prisoners of war."
Clark went on to say, "If these people are radicalized and they don't support the United States, and they're disloyal to the United States, as a matter of principal -- fine, that's their right. It's our right and our obligation to segregate them from the normal community for the duration of the conflict."
In his closing thoughts on the interment camp solution, Clark also suggested "our allied nations like Britain, and Germany and France are going to have to look at their domestic law procedures."
Watch the clip:
__
Follow Mike Opelka (@Stuntbrain) on Twitter.