Secretary of State John Kerry on Monday told a Saudi-owned media outlet that Iranian Supreme Leader Ayatollah Ali Khamenei's anti-American speech over the weekend was "very disturbing" and "very troubling."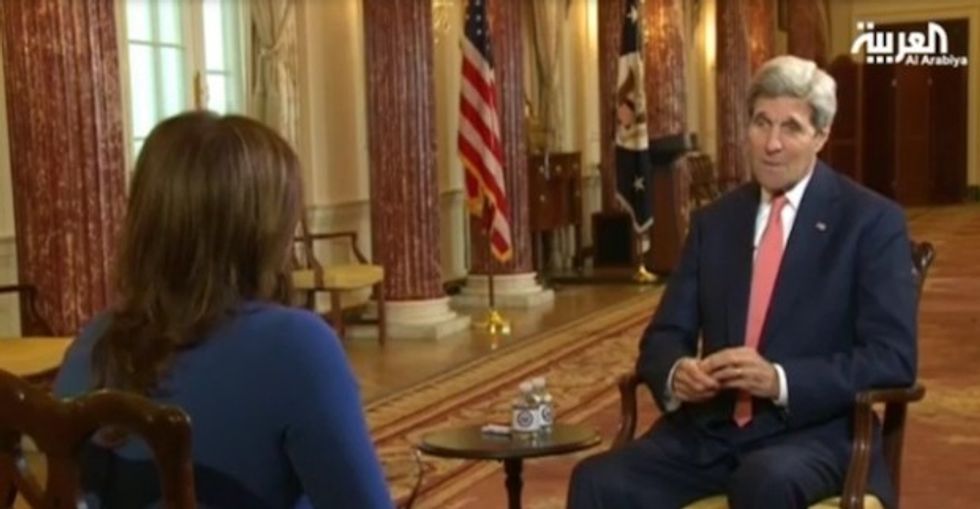 Kerry called Khamenei's speech "disturbing." (Screenshot: Al Arabiya)
At the same time, Kerry seemed to be willing to take a "wait and see" approach.
"I don't know how to interpret it at this point in time, except to take it at face value, that that's his policy. But I do know that often comments are made publicly and things can evolve that are different," Kerry told Al Arabiya television.
"If it is the policy, it's very disturbing, it's very troubling, and we'll have to wait and see," the secretary added.
During a speech marking the end of the Muslim holiday month of Ramadan on Saturday, Khamenei said that chants of "Death to America" and "Death to Israel" would continue to be heard in Iran and that Iran's policy to the "arrogant" U.S. would remain as today.
"Even after this deal our policy toward the arrogant U.S. will not change," Khamenei said.
On Iran's support for extremist groups in the Middle East, Kerry said, "[W]e are not kidding when we talk about the importance of pushing back against extremism, against support for terrorism and proxies who are destabilizing other countries. It's unacceptable."
Iran is the key supporter of the Lebanese Shiite terrorist group Hezbollah.
Kerry insisted that "none of this agreement" with Iran was "based on trust."
"It's based on specific steps that have to be implemented, specific timetables. And we will measure this agreement by its implementation. So it's not a question of trust," Kerry said according to Al Arabiya's transcript.
Kerry also made the claim to Al Arabiya that Iran would have to abide by "inspection and accountability" measures "forever."
Asked if Iran would cheat on the deal, Kerry said, "Iran has said it won't, but again, it's not words that matter, it's not a statement; it's acts, it's actions that you have to measure."
"[W]hat I do know is that there are very specific inspection and accountability measures that are part of the agreement forever – not for 15 years or 20 years, but forever. Iran has to live by what's called the Additional Protocol, which provides additional access. Iran has to live by agreements it made with us in this agreement that go to 25 years and for lifetime."
Khamenei was holding a rifle during his 28-minute address Saturday. Either intentionally or inadvertently, major Western media organizations did not report that significant scene setter for the speech in which the top Iranian official made his first comments on the nuclear agreement Iran reached with the U.S. and five world powers.
As of this writing, the State Department had not yet issued its own transcript of the Kerry interview.