Republican presidential candidate Rick Santorum faced off against MSNBC's  Rachel Maddow on Wednesday night, as the two intensely debated the legalization of gay marriage in America.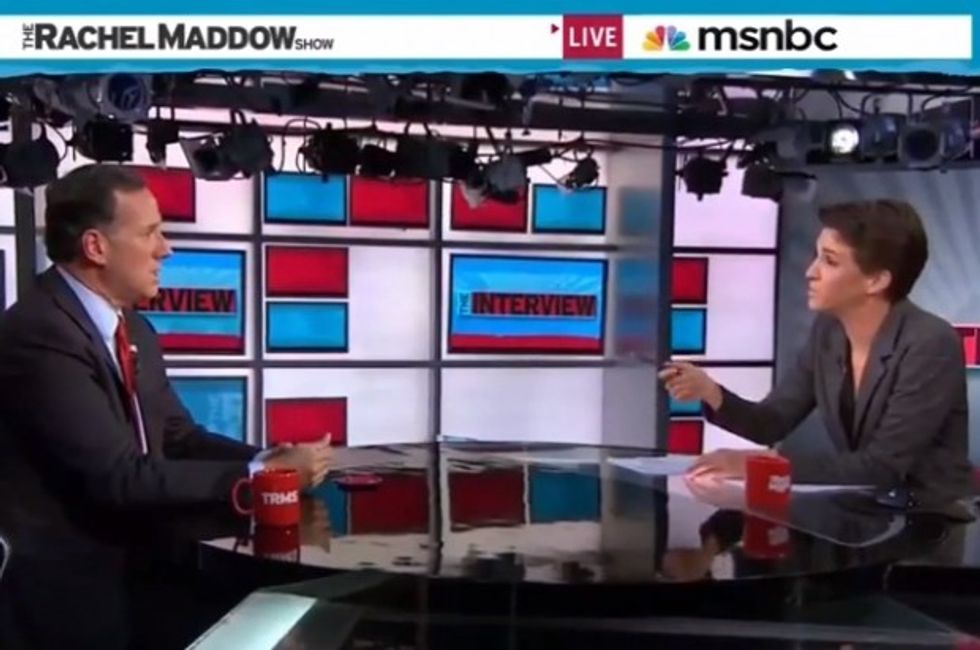 GOP presidential candidate Rick Santorum faces off against Rachel Maddow (MSNBC)
Santorum, who opposes same-sex nuptials, argued that it's entirely possible for Congress to try and overturn the Supreme Court's Obergefell v. Hodges decision, though Maddow charged that he is "fundamentally wrong on civics."
"Well, the Supreme Court is — well it is the Supreme Court," she said, defending the high court as the final authority on the gay marriage front.
But Santorum said that the justices don't collectively constitute a "superior branch of government," and alluded to his belief that there could be a potential for amending the decision later on if Congress passed a law and convinced the president to sign it.
"Well, no, you could not pass a law," Marrow countered, noting that amending the Constitution would be the only viable way. "[The Supreme Court is] ruling on the constitutionality of that law."
Santorum, though, said that he believes that the high court was looking at the issue from an "unconstitutional basis."
"The Congress has a right to say what's constitutional, the president has a right to say what's constitutional — and that's part of the dynamic," he said. "It's called checks and balances."
He argued that the Congress is free to pass whatever law it wants, just as the Supreme Court is free to strike any anti-gay marriage law down again.
"You're fundamentally wrong on civics," Maddow at one point shot back.
Santorum went on to make his aspirations on the issue clear: "What I would like to see as president — a whole new group of justices. And if you have a new group of justices, I think you might very well get a different decision."
As for whether he believes homosexuality is a choice, Santorum said that he doesn't know the answer to that question, though he has encountered some people who have lived a gay lifestyle and who no longer do.
"I don't really know the answer to that question, but I suspect that there's all sorts of reasons that people end up the way they are," he said.
Watch the debate below at the 6:00 mark:
(H/T: Mediaite)