ABC's "The View" is reportedly in "final negotiations" to add two new co-hosts to the show after the exit of Rosie O'Donnell and impending departures of Rosie Perez and Nicole Wallace.
Actress Candace Cameron Bure, an outspoken Christian, and "GMA Weekend" anchor Paula Faris are expected to join Whoopi Goldberg, Raven-Symone and comedian Michelle Collins at the round table for season 19, according an exclusive Variety report.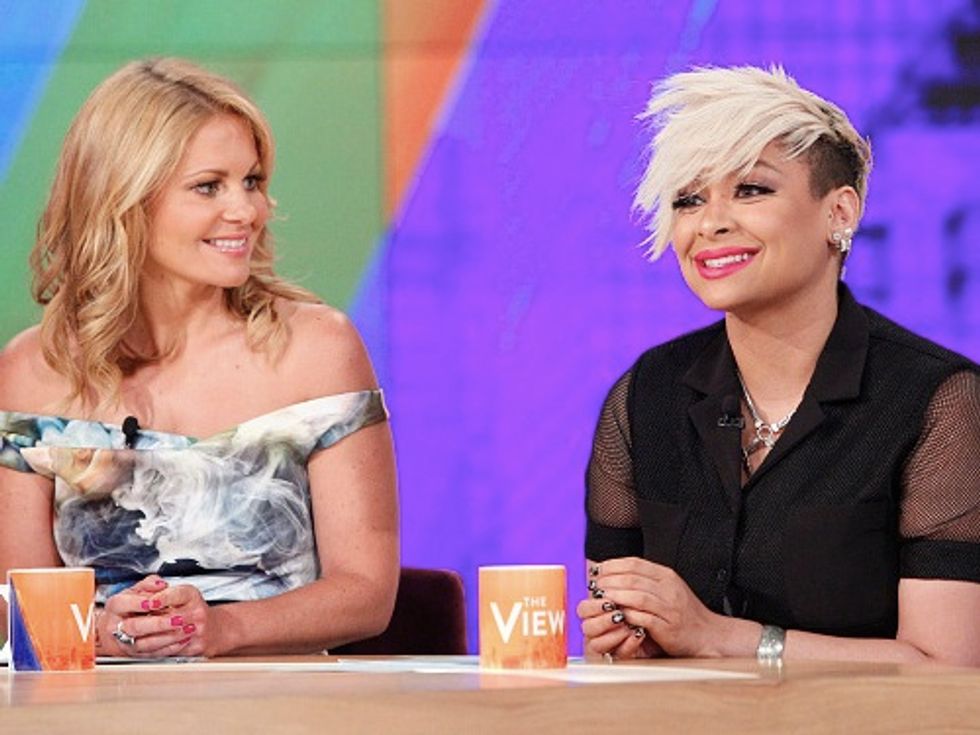 "The View"
Variety has more details:
According to a source, Faris' deal would feature her on "The View" for four days a week: Monday through Thursday, and she would take Fridays off so that she can juggle her second gig as the co-anchor of "GMA Weekend." The network is hoping that Faris can fill the show's "journalist spot," by offering the perspective of a news personality. Those familiar with Faris' thinking note she wants to continue her news career, in the same way that Barbara Walters did, which is why she's keeping her day job.

As for Cameron Bure, she's being courted for the show's Republican seat, although her schedule makes joining "The View" more complicated. There are still details that need to be ironed out, because she's starring in the Netflix "Full House"-spinoff "Fuller House," which shoots through November in Los Angeles while "The View" tapes in New York. How can D.J. Tanner be at two places at once? ABC wants Cameron Bure to appear "The View" for some weeks and then she'd have to jet to Los Angeles (where she currently lives) to reprise her role on the Netflix series on other weeks.
Bure, a Hollywood favorite among conservatives, recently made headlines when she clashed with Raven-Symone on the issue of religious liberty during a guest appearance on "The View."
The actress found herself outnumbered on the show when she argued that the Christian bakers who were fined $135,000 for refusing to make a cake for a same-sex wedding didn't discriminate against the lesbian couple.
"This is about freedom of association, it's about constitutional rights, it's about First Amendment rights," she said during the show. "We do have the right to still choose who we associate with."
---