Update II:
Joint statement out from State & DNI (finally) clearing up all the sloppy reporting from today on the Clinton emails: pic.twitter.com/tHbccNAqOG

— Cameron Joseph (@cam_joseph) July 24, 2015
Update: Shortly after publication, The New York Times altered its lede with no editor's note or explanation.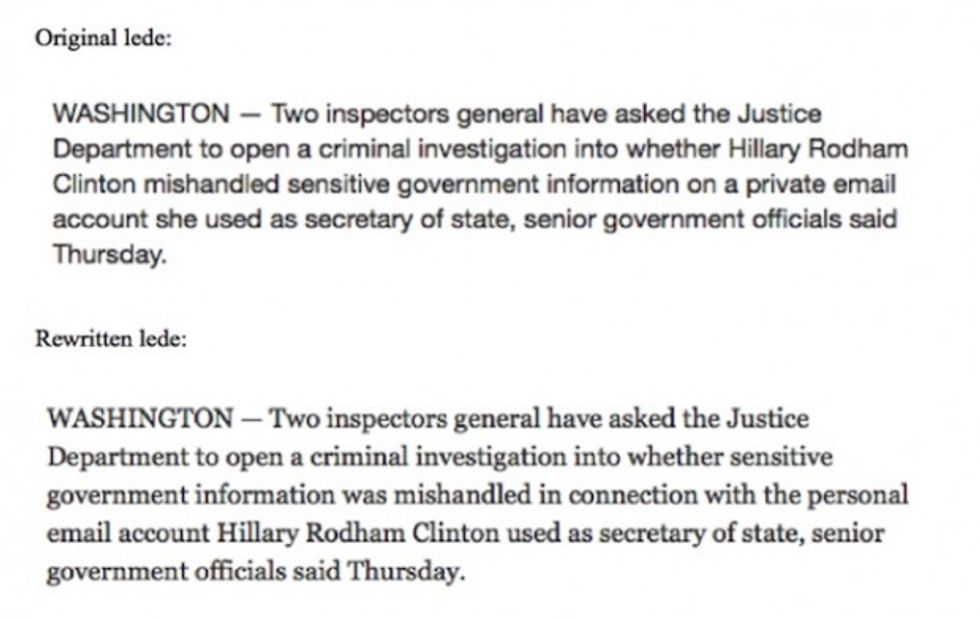 Screen grabs
Original story below:
Two inspectors general have called on the U.S. Department of Justice to open a formal criminal investigation into former Secretary of State Hillary Clinton's use of her private email account, senior government officials reportedly told The New York Times on Thursday.
The investigation would focus on whether Clinton broke the law by sending or receiving classified emails using her private email account. A June assessment put together by the inspectors general that suggested Clinton's private account included "hundreds of potentially classified emails."
The DOJ has yet to decide whether it will launch a formal investigation, the officials told the Times.
Credit: AFP/Getty Images
More from the report:
At issue are thousands of pages of State Department emails from Mrs. Clinton's private account. Mrs. Clinton has said she used the account because it was more convenient, but it also shielded her correspondence from congressional and Freedom of Information Act requests.

She faced sharp criticism after her use of the account became public, and subsequently said she would ask the State Department to release her emails

The department is now reviewing some 55,000 pages of emails. A first batch of 3,000 pages was made public on June 30.
Clinton, a 2016 Democratic presidential candidate, has maintained that she never sent or received classified information from her personal account. The Clinton campaign declined to comment on the report.
Some of the emails recently released to the public were "retroactively" classified, but it's not clear if any other emails were already classified when Clinton sent or received them.
---