The first words for most babies are a simple "dada" or "mama," but a video of 3-month-old baby Ben is going viral because it seems like he skipped speaking single words and went straight to a first sentence.
Proud dad Ted Moskalenko posted video of him saying "I love you" to his son earlier this month. To his surprise, Ben seems to say it back to him.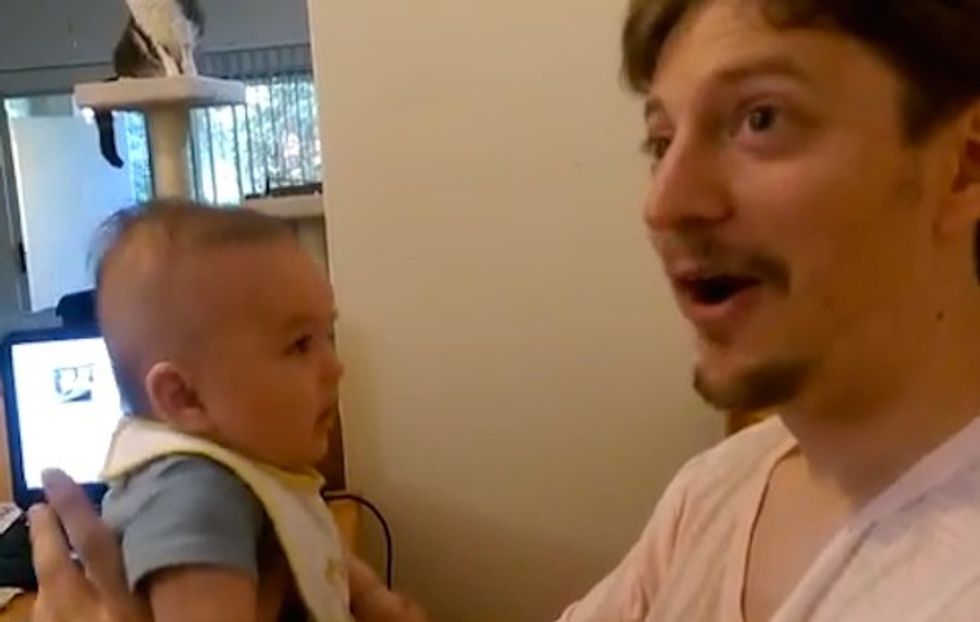 Moskalenko's face when his infant son seems to repeat "I love you" back to him. (Image source: YouTube)
Take a listen:
Matt Lauer from NBC's Today show speculated that if people didn't hear the dad saying "I love you" before the baby, they wouldn't necessarily make out those words from the babble the infant boy makes. But Al Roker, who only listened to the baby first, did think it sounded like he said "I love you."
Most babies don't utter their first true word until around their first birthday, but they will begin mimicking sounds at about 4 months old.
"I had said 'I love you' a few times prior to the clip, where his reaction was more 'baby-talk', which was why you hear me mimicking him at the start of the video," Moskalenko said in an email to TheBlaze. "I said 'I love you' in the same pitch that he was using, it seemed like something clicked in his mind and he was able to reproduce the sounds. It was amazing!"
As for other words from Ben yet, Moskalenko joked, "I could have sworn he said 'mama', but it was in a half-asleep-getting-hungry state."
The Moskalenkos had a feeling their video would get a lot of attention, but just how much it has gotten since being posted earlier this month is surprising.
"We posted it for our friends and family to see, and it just blew up from there," the dad said.
—
This story has been updated to include information from Moskalenko.