During two key moments of President Barack Obama's presidency, comedian Jon Stewart was reportedly summoned to the White House to speak with the president -- and it was done quietly.
Stewart was reportedly invited to speak over coffee in the Oval office during Obama's 2011 budget fight with Congress and was again brought to the White House in February 2014, just hours before the president addressed the nation on Russia's military action in Ukraine.
But what many news outlets found more interesting was the fact that no one knew about the so-called "secret" meetings.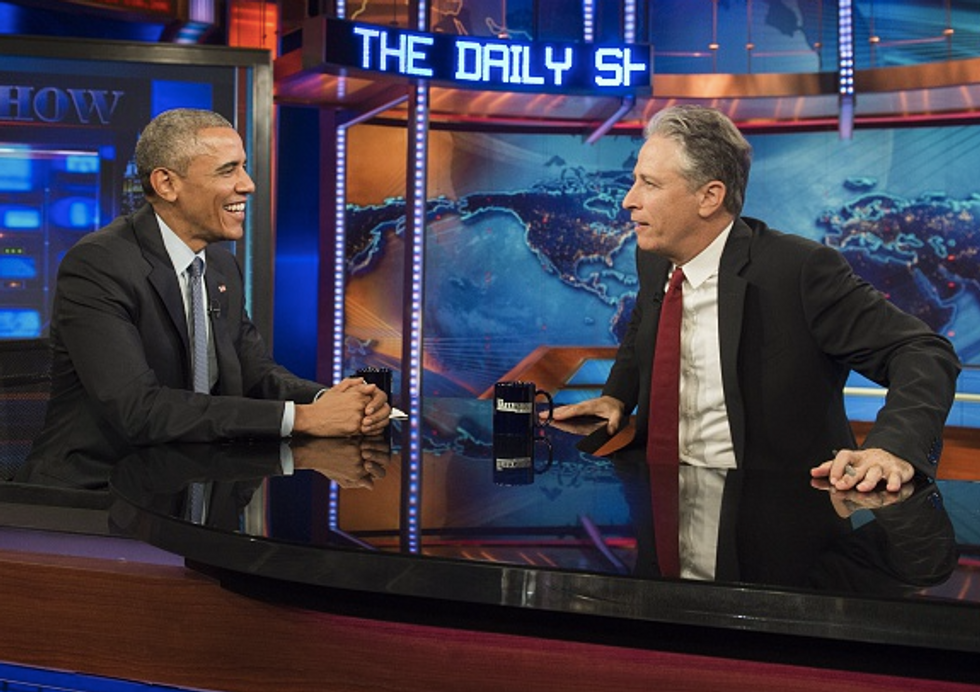 President Barack Obama speaks with Jon Stewart, host of 'The Daily Show with Jon Stewart,' during a taping of the show in New York, July 21, 2015. The appearance marks Obama's third time on the show as President, and seventh overall. AFP PHOTO / SAUL LOEB (Photo credit should read SAUL LOEB/AFP/Getty Images
But the meetings were listed in the White House visitor logs and confirmed by three former Obama aids, Politico reported. The effort to meet with Stewart "speaks volumes about Stewart and his reach, which goes well beyond the million or so viewers who tune into The Daily Show on most weeknights," the report added.
Writing for Politico's "The Agenda" blog, Darren Samuelsohn argued that Stewart's ability to reach and influence young people grabbed the attention of the government.
"And quite often," Samuelsohn added, "that effect took the form of either prodding, or working in concert with, the Obama administration."
Read more from Politico:
As the White House recognized, Stewart can, at times, be a more potent influence on policy than Obama himself. The 52-year-old funnyman is widely credited with changing how the government treated military veterans and Sept. 11 first responders and for canceling a hyper-partisan CNN talk show. His broadsides against President George W. Bush's Iraq war and a series of Obama missteps had a searing effect on how Americans thought about Washington.

Top Obama aides David Axelrod and Austan Goolsbee knew Stewart's voice mattered and made sure to field calls and emails from the host and Daily Show staff.

Looking back on Stewart's 16-year run, which ends with a final show next Thursday, Democratic and Republican officials, including many of the lawmakers and administration aides he's routinely skewered, said in interviews there are plenty of identifiable marks where Stewart has made a difference.
Obama recently appeared on "The Daily Show" and discussed topics like Iran, executive orders and the media.
"I can't believe you're leaving before me," Obama told Stewart jokingly. "I'm going to issue an executive order. Jon Stewart cannot leave the show. It's being challenged in the courts."
---