Fox News host Megyn Kelly on Tuesday pressed the reporter who penned a controversial story about rape allegations Donald Trump's ex-wife made against him nearly 30 years ago.
Tim Mak, senior correspondent for The Daily Beast, was grilled by Kelly over whether his story on the allegations made by Ivana Trump during a divorce proceeding were relevant. Ivana Trump on Tuesday had blasted Mak's story, saying it was published "totally without merit."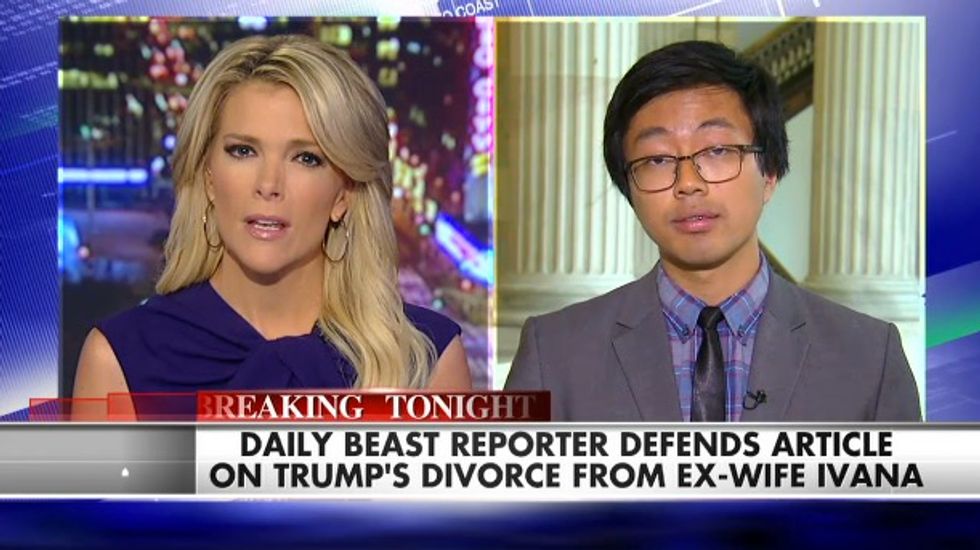 Image source: Fox News
Mak vigorously defended his story, contending Trump's record on the subject deserved to be examined after he said "rapists" are crossing over the southern border to the U.S.
"I think what's important here is that Ivana Trump did make these statements about an incident in 1989 and she acknowledged them again in a book that was published in 1993. We're simply looking at those facts and I think with his presidential campaign there is new relevance to them," The Daily Beast reporter said.
"But that doesn't answer the question about whether your reporting is fair or relevant," Kelly said.
[sharequote align="center"]"That doesn't answer the question about whether your reporting is fair or relevant."[/sharequote]
Kelly, who previously practiced law, argued that spouses often make inflammatory accusations against each other during divorce proceedings. She also noted that Ivana Trump has since dismissed his article and proudly expressed support for her ex-husband's White House bid.
Mak was unmoved.
"I think it's certainly relevant for the reasons I described. It's fair. And it's factual," he said.
"But you're not answering my question," Kelly interjected.
"Sure," Mak replied. "I mean I think we accounted for it by looking at the context of the issue. I mean If Ivana Trump now currently has reconciled with Donald Trump I think we need to acknowledge that when we see her make these statements that it has no merit."
Mak added that he did reach out to Ivana Trump before publishing the story and that he did not receive a comment from her. He also noted that he again reached out after her statement blasting his story, but has again not heard back.