A day after Gawker published his personal cellphone number, Donald Trump pulled out a trick of his own to get even.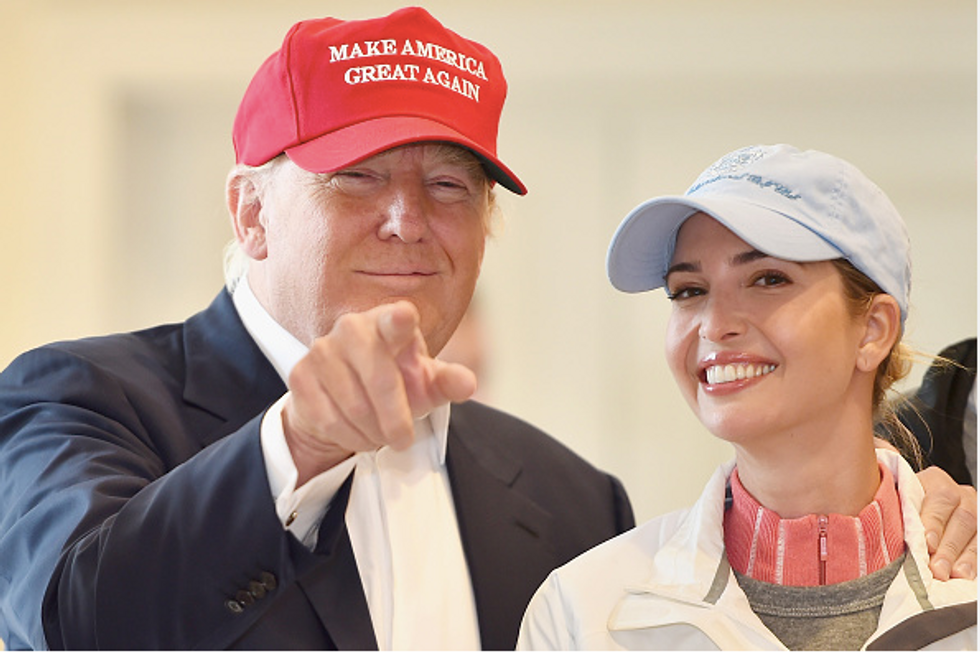 Republican presidential candidate Donald Trump visits his Scottish golf course Turnberry with his children Ivanka Trump and Eric Trump, July 30, 2015 in Ayr, Scotland. (Photo by Jeff J Mitchell/Getty Images)
The billionaire businessman and 2016 Republican presidential candidate tweeted out the number Tuesday to encourage his more than 3 million social media followers to give him a call.
Thank you @gawker! Call me on my cellphone 917.756.8000 and listen to my campaign message.

— Donald J. Trump (@realDonaldTrump) August 4, 2015
The number sends callers to a voicemail message from none other than the Donald himself.
LISTEN: Here's @realDonaldTrump's new cell phone voicemail campaign message: pic.twitter.com/HUeHMu94nG

— Frank Thorp V (@frankthorpNBC) August 4, 2015
"Hi, this is Donald Trump and I'm running for the presidency of the United States of America," Trump says in the greeting. "With your help and support, together, we can make America truly great again. Visit me on Twitter at @realdonaldtrump and check out my campaign website at www.donaldtrump.com. Hope to see you on the campaign trail. We're going to do it."
In other words, he turned Gawker's stunt into a way to reach potential voters with the equivalent of a campaign ad.
Trump's new greeting is a lot different from the one he had Monday, when a female voice encouraged callers to leave a message. Phone calls began pouring into the 917 number when Gawker published it in the "spirit of open and fair political debate," after Trump read off the phone number of GOP rival and Sen. Lindsey Graham before a crowd of people in the senator's home state of South Carolina.
Graham had referred to Trump as a "jackass" just days before.
(H/T: POLITICO)
–
Follow Jon Street (@JonStreet) on Twitter