Graphic new video shows a 53-year-old man in California survive getting run over by his own car in one extremely intense road rage incident.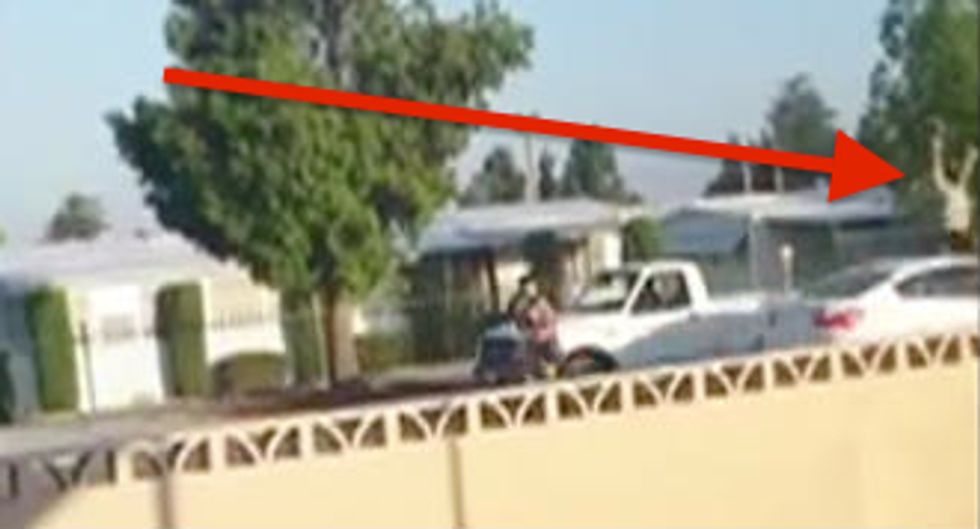 Image source: KTLA-TV
Police in Hemet, California, released footage on Monday showing Tracy Leavitt involved in a road rage incident on Friday with two men, one of whom isn't seen in the video at first, but suddenly shows up behind the wheel of the victim's car, KTLA-TV reported.
Leavitt and the first man appear to be brawling on the side of the side of the street as the second man barrels through in the victim's car, striking him and throwing him up into the air.
Police released graphic video Monday of a man being run over by his own car, hoping it may lead to the arrests of two men involved in the hit-and-run.The video showed the victim involved in an apparent road-rage confrontation with two men standing next to their vehicles on a street in Hemet.Suddenly, one of the suspects jumped into the victim's car and struck him at a high rate of speed, according to police.The victim received no life-threatening injuries.Watch KTLA's video here: http://ktlane.ws/1gFQaAc

Posted by KTLA 5 News on Monday, August 3, 2015
The suspect behind the wheel was going at a high rate of speed, according to KTLA-TV.
Leavitt's vehicle was left abandoned at the scene and the two suspects fled in a white Ford Ranger pickup truck.
Leavitt has had to undergo hip replacement, knee and leg surgery since the incident, according to his wife Sabine Leavitt.
A GoFundMe page has been set up to help the family with Leavitt's medical bills.
(H/T: KTLA-TV)
–
Follow Jon Street (@JonStreet) on Twitter