Rachel Maddow's response to Sen. Ted Cruz's "machine gun bacon" might not have been what you expected.
The MSNBC host called out the 2016 Republican candidate for his lack of knowledge about the weapon he was firing.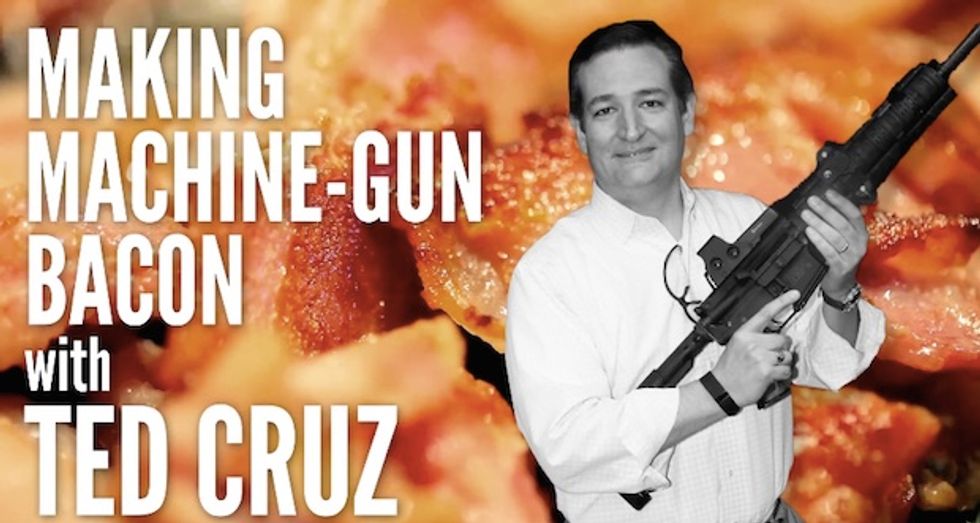 Image source: IJ Review via YouTube
In the video for IJ Review, Cruz declares: "In Texas, we cook bacon a little differently than most folks." The barrel of a rifle is then wrapped with bacon, and the Texas senator fires until the heat off the weapon cooks the meat. His pronouncement at the end: "Mmmh. Machine gun bacon."
Maddow closed her Monday night show by taking Cruz to task — though not over the actual cooking of breakfast meat over a firearm. She had a problem with Cruz calling the weapon a "machine gun." It's not; it's an AR-15 semi-automatic rifle.
"It's kind of obvious this is not a machine gun," Maddow said.
Maddow was not alone in her observation — people on Twitter also chimed in Monday:
@ijreview @tedcruz Hey Ted..pretty sure that was a standard semi-auto rifle. That is "semi-auto bacon at best. Try foil under the bacon.

— DickTrickle (@flyfishooltewah) August 3, 2015
Semi-auto...but still mmm mmmm good :) @ijreview @tedcruz #Bacon

— DernDawn (@noprezzie2012) August 3, 2015
And a reporter for the Guardian questioned Cruz's method of cooking, contacting FoodSafety.gov about it:
Do not cook bacon on the barrel of a machine gun, says http://t.co/6AjaUvmP7l. (cc @tedcruz) pic.twitter.com/qMDbfxvbV6

— Adam Gabbatt (@adamgabbatt) August 3, 2015
—
Follow Mike Opelka (@Stuntbrain) on Twitter