Among the various manuscripts and artifacts in the British Library's exhibit "Magna Carta: Law, Liberty, Legacy" is a sword with a mysterious inscription.
The double-edged sword, which was found in the River Witham in 1825 and is on loan to the library from the British Museum, has this engraving "NDXOXCHWDRGHDXORVI".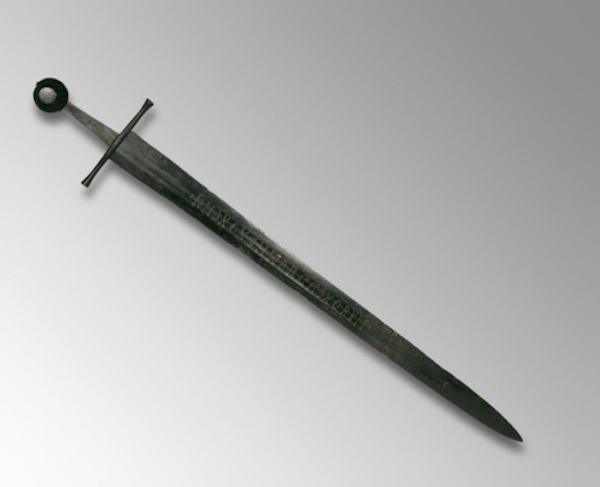 Photo credit: British Museum Trustees
"An intriguing feature of this sword is an as yet indecipherable inscription, found along one of its edges and inlaid in gold wire," Julian Harrison wrote in a blog post for the library about the feature. "It has been speculated that this is a religious invocation, since the language is unknown. Can you have a go at trying to decipher it for us?"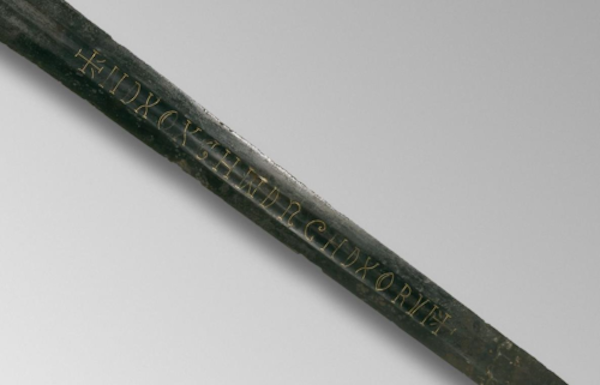 Photo credit: British Museum Trustees
The sword itself, Harrison wrote, weighs nearly three pounds and is about 38 inches long.
"[I]f struck with sufficient force, it could easily have sliced a man's head in two," he wrote.
Harrison also pointed out that knights appeared to carry similar swords in an illustration (below) depicting the French invasion of Normandy in 1203.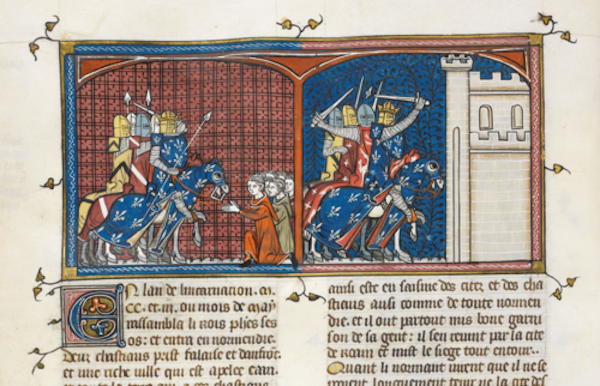 Image source: British Library Royal MS 16 G VI, f. 365v
Sophie McIvor, head of media relations for the British Library, told TheBlaze in an email they've received many responses as to what the inscription might say and they're "still coming in fast."
Some in the comments on the blog post include:
joe2348: Looks like medieval Welsh..

"No covering shall be over me"?

Possibly meaning the sword and it's' owner will always be ready for battle?

Janet Kennedy: "ND O CHWDRGHD ORVI". The longer word in the middle simply looks like a misspelling of the German for sword. This would make ORVI a name. Urvi means a Earth in Hindi...but I think this looks more Latin, as in Orvis, a variation of Horatius, meaning hour/time.

Alexander_Okhrimenko: ND - Noster Dominus (Our Lord)

O - omnis (all, every)

CH - cohors (cohors) of

WDR - ? Waldemarus

GH D - gehenna dies (Hell / Domesday)

orvi - 1) oro, avi, atum, are - pray

2) orno, avi, atum, are

RingAndRaven: It may not mean anything, or be very badly spelt if it does.

IIRC Saxon swords in particular often had inscriptions on them that didn't actually say anything because the people buying them (or making them) were illiterate. PEople wanted swords with their names, or other cool inscriptions on them, and they could recognise the symbols but they couldn't actually read. So the blacksmiths just put any old letters on and called it a day.
Checking out theories also swirling on Reddit, others include a "kill count in Roman numerals," a name and "meaningless gibberish."
The exhibit itself, "brings together manuscripts and objects from a thousand years of history to tell the story of the granting of Magna Carta and how it has evolved into an international symbol for freedom over centuries," a news release from the library stated.
(H/T: Daily Mail)