A gunman in North Carolina is dead after police say he fatally shot one man, wounded one woman and then injured two police officers during a brief shootout.
The shootings occurred Saturday night in Gastonia, North Carolina — a Charlotte suburb — around 9:18 p.m. Police said one caller alerted 911 operators that "a male subject was in the home with a gun." The caller then said his father had been shot, and the gunman was still in the house.
After that, police said multiple 911 calls began coming in that reported an active shooter on Greenwood Drive, according to WBTV.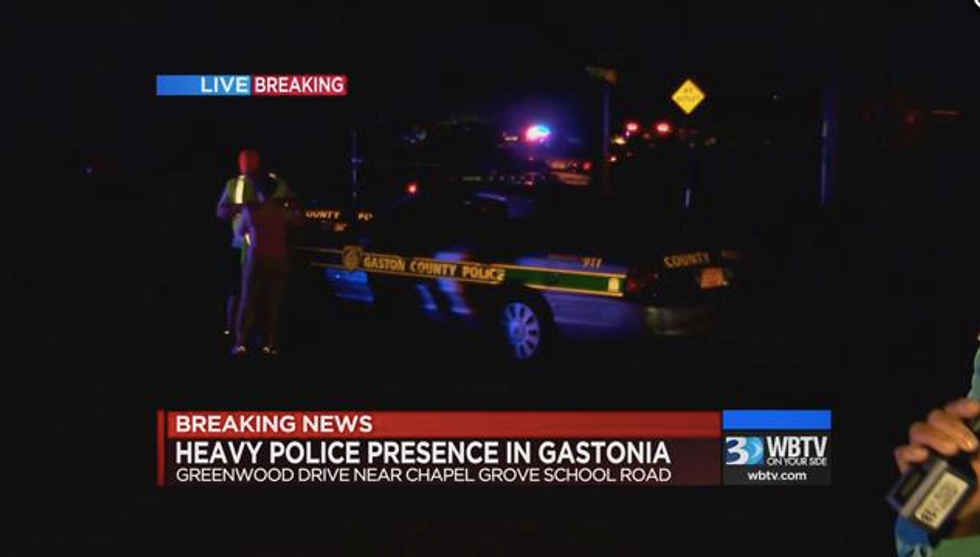 Image source: WBTV
Police said a man was found shot to death in a location in the neighborhood, but his name is not being released until family members are notified. A woman in another location was also shot but sustained minor injuries.
When police arrived in the neighborhood, they found the suspect "holding a shotgun and wearing a pistol," according to Gaston County Assistant Police Chief Joseph Ramey.
"Upon arrival, officers were confronted with a suspect who was armed," Ramey told WBTV. "That suspect engaged officers. Two officers were shot and have non-life threatening injuries."
WBTV 3 News, Weather, Sports, and Traffic for Charlotte, NC
A woman in a nearby convenience store said she watched the mounting police presence grow and saw officers retrieve weapons from the trunks of their vehicles.
"Cops and ambulances started pulling up in the parking lot," the woman reported. "And then next thing you know like seven or eight cops over here started getting guns out their trunks and everything."
"We heard about 10 to 15 rounds of shots go off," she said. "It was loud, that's for sure. Boom boom boom boom."
Two officers were shot in their "lower extremities" and are reportedly alert and talking at the CaroMont Regional Medical Center in Gastonia. The gunman died when police say between four and seven officers returned fire.
While police have not yet speculated on the motive or the relationship between the gunman and his victims, a family member told WBTV that the gunman and the woman were involved in an on-again off-again relationship. Neighbors reported that the man killed lived in the neighborhood.
NBC News said the two men were dead by the time EMS arrived on the scene.
Ramey said "it's very disturbing when you have men and women that you're close to, that you appreciate the hard work they do day in and day out — to hear they've been shot."
"I know from the last 18 months police have been under the microscope," he said. "Officer involved shootings are a difficult thing to follow right at the moment for us but our officers are professionals. They acted professionally in this incident here."
The names of the wounded officers have not been released. Ramey said one officer was "fairly young" and the other was a veteran.
WBTV reported that Gaston County Police will investigate the shooting of the two victims. The North Carolina State Bureau of Investigation will investigate the officer-involved shooting of the suspect, and the Gaston County Police Professional Standards Unit will conduct a parallel investigation to ensure that policies and procedures were followed by the officers.
2 Gaston County officers shot tonight. Please keep our officers in your prayers. More info to follow as I know more....

— Tracy Philbeck (@tracyphilbeck) August 9, 2015