President Barack Obama said that after the Iran nuclear agreement has expired in 15 years, Iran could be a few months away from building a bomb. But, he added, that's still true now.
"If the breakout time is extended for 15 years and then it goes back to where it is right now, why is that a bad deal?" Obama said in an interview with NPR.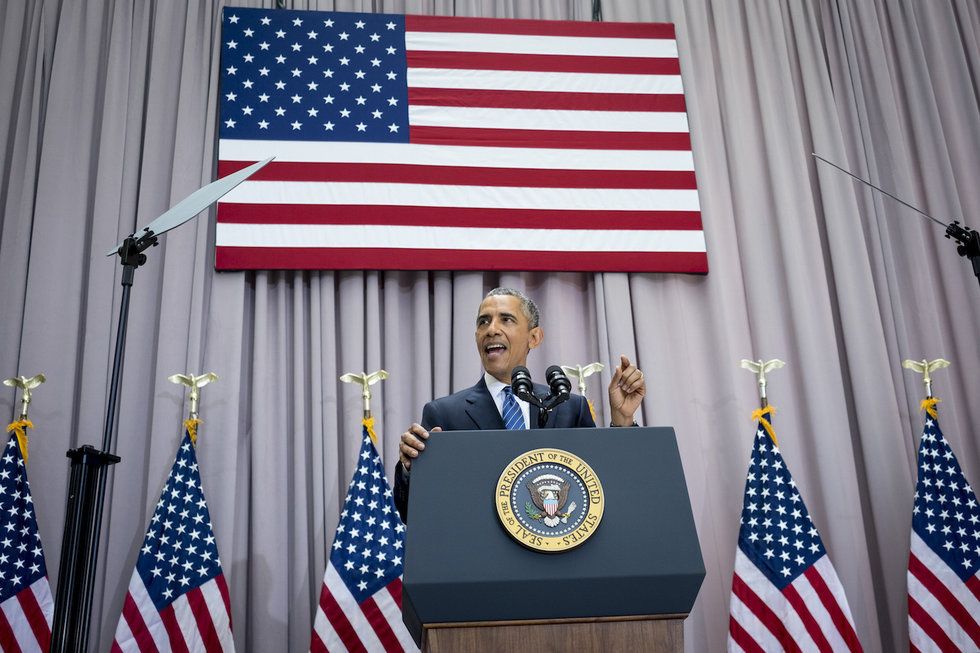 Pete Marovich/Bloomberg/Pool
The deal, Obama argued, allows the international inspectors and the United States to monitor Iran's progress.
"If we reject this deal and Iran's pursuing breakout times that are shrinking because they're installing more and more advanced centrifuges and stockpiling more and more highly enriched uranium is that some of those neighbors who feel threatened by Iran start thinking maybe they should be pursuing their own nuclear program," Obama said. "That's exactly the kinds of scenarios that we need to prevent."
NPR conducted the interview from the White House last week before Obama left for vacation on Martha's Vineyard.
NPR's Steve Inskeep followed by asking him the precisely how long it would take for Iran to build a bomb after 15 years when the deal expires. The timespan is referred to a "breakout time."
"Well, it shrinks back down to roughly where it is now," Obama said.
Inskeep followed, "Which is close to zero?"
Obama answered, "Which is a matter of months."
He continued, "Because keep in mind that theoretical breakout times don't match up with practical breakout times."
"You know, you don't just get one nuclear weapon. You have to, you know, test, weaponize, miniaturize, mount on top of missiles, you know, it's a complicated piece of business," Obama said. "The point is that we will know when they are doing it in such a way that we can respond, but this argument that's been made also doesn't make sense."
"In what sense are we better off in that scenario than we would be having set up a situation where 15 years from now, that breakout time is approximately where it is now, but we now have an entire infrastructure that's been built to keep track of exactly what Iran's doing, and we had the entire international community behind us?" Obama added.
Obama is still facing intense opposition from most Republicans and some Democrats over the Iran deal.
"President Obama says his deal cuts off all paths for Iran to acquire a nuclear weapon, but he knows that's not true," Cory Fritz, spokesman for House Speaker John Boehner, told TheBlaze. "Republicans and the American people are opposed to this deal because it hands Iran billions of cash, offers amnesty to terrorists, and lifts embargoes on conventional arms and ballistic missiles, all while giving the ayatollah the time and space to build a nuclear bomb."