A New York state supreme court judge told Gov. Andrew Cuomo he has 30 days to turn over documents related to a gun-rights rally last year during which state troopers allegedly intimidated attendees and violated their First Amendment rights.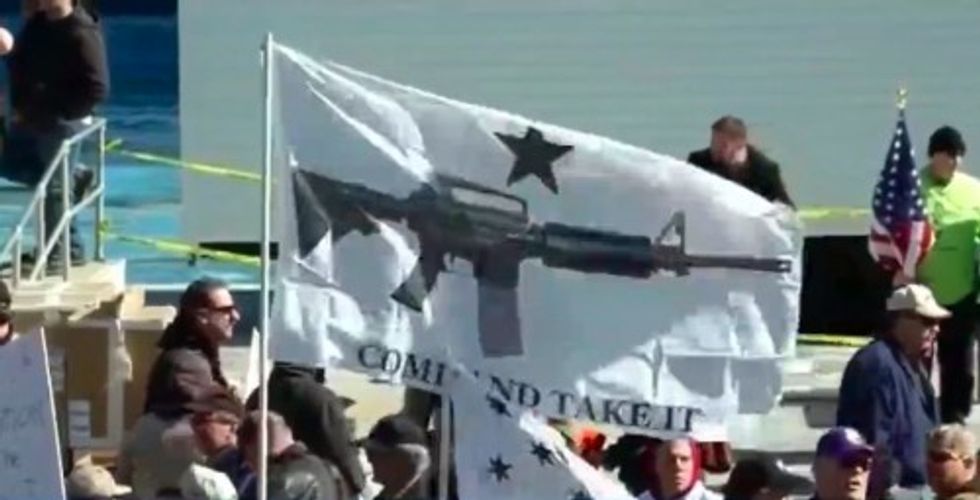 A scene from the rally. (Image source: WGRZ-TV)
SCOPE — which stands for Shooters Committee On Political Education — contended Cuomo and his staff enacted rules and regulations for state police enforcement so the April 2014 rally in front of the state capitol would be disrupted.
"I was there, and it was total intimidation," New York State Assemblyman David DiPietro told WGRZ-TV. "That was done by the governor on purpose to try and intimidate people."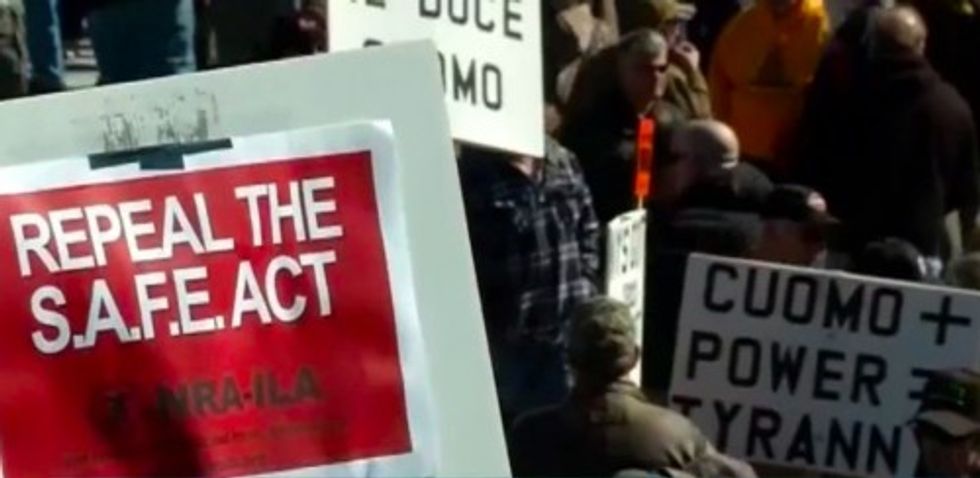 A scene from the rally. (Image source: WGRZ-TV)
More from WGRZ-TV:
The rally was attended by an estimated 3,000 people, including Buffalo developer and former gubernatorial candidate Carl Paladino as well as current presidential candidate Donald Trump. Those at the rally claim State Police confiscated replica guns and other materials in violation of the protesters' First Amendment rights.
SCOPE sued to obtain documents related to the rally after the state refused to turn them over following a Freedom of Information Law request, citing attorney-client privilege.
New York Gov. Andrew Cuomo (Image source: AP/Richard Drew)
But the judge ruled in favor of SCOPE, saying the Democratic governor has 30 days to turn over the documents or appeal — and Cuomo's spokesperson told WGRZ-TV an appeal is expected.
"This is a big victory," DiPietro said of the court ruling.
SCOPE also won a lawsuit in May that forced New York State Police to relinquish information on weapons registrations.
Cuomo is well known for gun-control legislation. His "SAFE Act" bans possession of "high capacity magazines," expands background checks for gun buyers and gun dealers, requires registry of so-called "assault weapons," broadens the definition of "assault weapon" and bans the Internet sale of guns.
DiPietro said Cuomo's administration is the most secretive he's ever seen.
"Here's the governor, who is being demanded by the court to turn over public documents, and he keeps refusing," DiPietro said. "That's the height of arrogance."
—
Follow Dave Urbanski (@DaveVUrbanski) on Twitter