In a speech raw with emotion resonating from his own recent loss, Vice President Joe Biden offered his condolences to the loved one of the four slain Marines and one sailor gunned down in July by who he called a "perverted jihadist" at a memorial service Saturday.
"These perverse ideologues, warped theocrats, they may be able to inspire a single lone wolf to commit a savage act, but they can never, never threaten who we are," Biden said at the memorial service in Chattanooga, Tennessee. "When this perverted jihadist struck, everyone responded."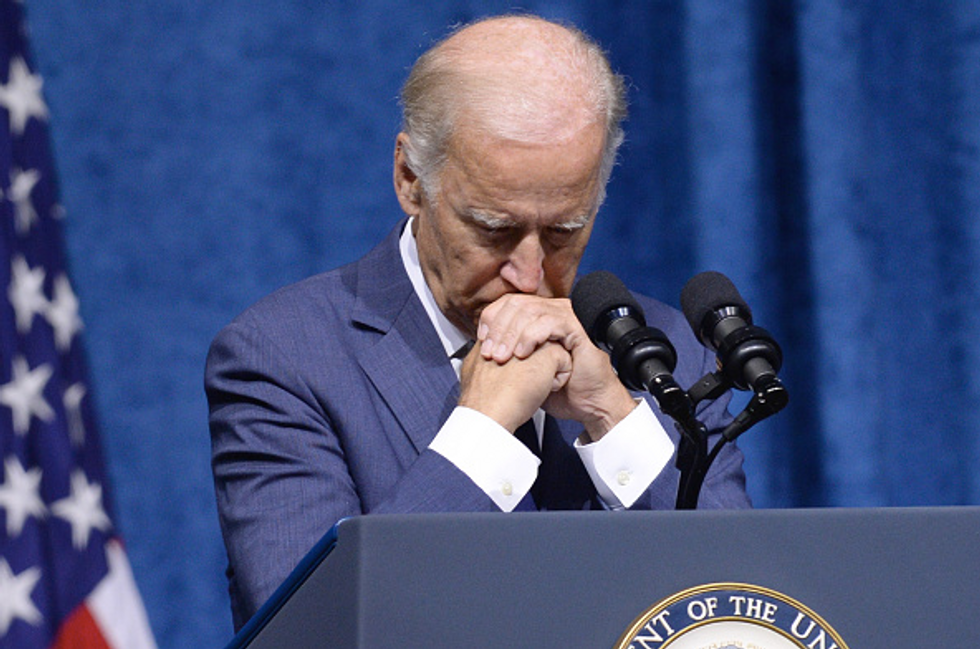 CHATTANOOGA, TN - AUGUST 15: U.S. Vice President Joe Biden pauses as he speaks at a memorial service to honor those killed In Chattanooga shooting at University of Tennessee at Chattanooga's McKenzie Arena on August 15, 2015 in Chattanooga, Tennessee. The military is putting on the ceremony to honor the sailor and four Marines killed and to say thank you to the men and women who helped responded when Mohammad Abdulazeez shot up a military recruitment center and a Navy operations support center before being killed by law enforcement, (Photo by Jason Davis/Getty Images)
Biden's comments about Muhammad Youssef Abdulazeez, the 24-year-old who later died in a shootout with police, stand in stark contrast to the calmer and more vague language official investigators have typically used to describe the July 16 tragedy that is still being investigated as a terrorist attack. But despite his harsh rhetoric reserved for Abdulazeez, Biden's own recent loss of his son, Beau, resonated throughout his deeply personal remarks Saturday.
Biden commended the courage of the families who attended the memorial service at the University of Tennessee at Chattanooga, relaying that their courage will serve as an inspiration to others in the future who will endure tragedy, according to the Los Angeles Times.
"You've lost very much. You've given so very much, but please know that he will always be with you in the deepest recess in your heart, in your every thought," Biden told the families of their loved ones.
"Please know that he will always be with you in the deepest recesses of your heart, in your every thought," Biden continued. "He'll be the voice you hear in your ear telling you it's okay. It'll be that feeling in your chest that just calms you down."
The vice president praised the men's heroism, and while he did not know any of them personally, Biden likened them to his son who died three months ago of cancer.
"But, oh, I knew them," Biden said of the men. "Confident, committed, determined, trustworthy, passionate and always, always loyal — I knew them. They were my son."
"The day will come, as hard as it is to believe, when his memory brings a smile to your lips and a tear to your eyes. It takes time," Biden said. "In my experience, it takes getting through every season at least once, but it will come. It will come. And that's when you know you'll be all right."
According to CNN, Biden also spoke privately to the families of those who were slain before the memorial.
Secretary of Defense Ashton Carter also attended the memorial service and gave remarks. Carter said the reasoning why Abdulazeez decided to open fire on a military recruiting center and a Navy-Marine training facility — killing Sgt. Carson Holmquist, Gunnery Thomas Sullivan, Lance Cpt. Squire '"Skip" Wells, Staff Sgt. David Wyatt and Navy Petty Officer 2nd Class Randall Smith — may never be known. 
"The few who threaten or incite harm to Americans, violent extremists or terrorists, wherever they are, will surely, very surely, no matter how long it takes, come to feel the long arm and the hard fist of justice," Carter said Saturday.
The FBI said in July that it had no evidence Abdulazeez was "radicalized by ISIS," however law enforcement officials did uncover several connections Abdulazeez had with radical Islam, including his following of al-Qaeda cleric Anwar al-Awlaki. The FBI has also not yet been able to determine a motive.
"We have a message for those perverted cowards around the world: America never yields, never bends, never cowers, never stands down, [but] endures, responds, and always overcomes," Biden said. "For we are Americans, and never, never underestimate us. It's always been a bad, bad bet to do that." 
While President Obama delivered the eulogy, Biden also spoke at the funeral of Rev. Clementa Pinkney, the South Carolina state senator who was one of nine people murdered in a historically black church during a Bible study in Charleston. He also attended a service at Pinckney's church, Emanual AME, where the June shooting occurred.