One of Republican presidential candidate Donald Trump's top aides issued a challenge to all 2016 contenders on Monday, demanding they reveal how much their organizations pay women.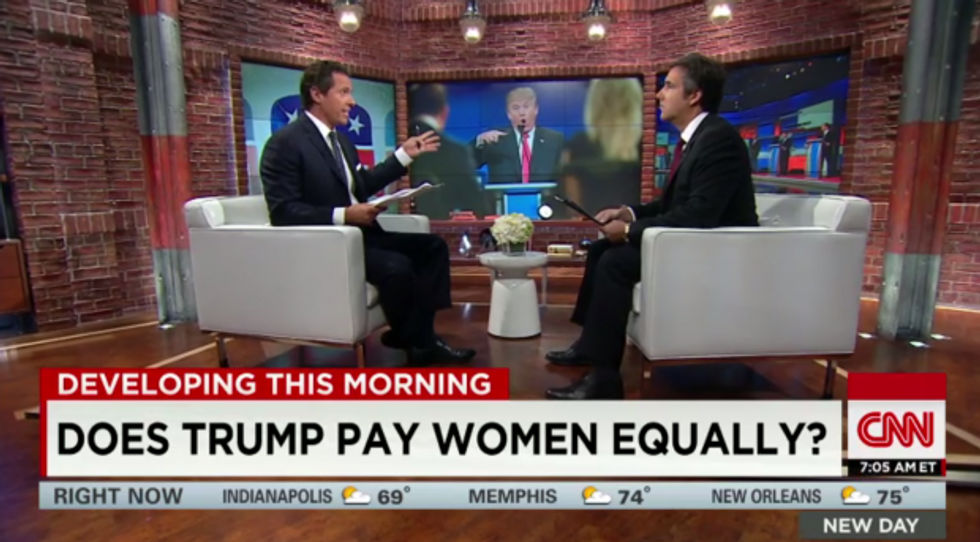 (CNN)
Appearing on CNN's "New Day," Trump Executive Vice President Michael Cohen offered to show CNN how much Trump pays women in his organization and said other candidates should follow suit.
Cohen said there are more men that work for the company in "most respects," but added that there are more female executives at the Trump organization than men.
"Women who are similarly situated in positions…are actually paid more," he added.
"And you can prove it? Sounds too good to be true," CNN host Chris Cuomo responded.
But Cohen claimed he certainly can prove it. Watch the segment via CNN:
More from CNN:
"I would welcome you to come in -- I would have you sign an NDA (non-disclosure agreement) and you could take a look," Cohen said, saying members of the media could review the numbers.

Cohen offered a peek at the Trump organization's pay, saying that while there are more men in the company, female executives in similar roles are making as much or more than their male counterparts, citing an example of an assistant general counsel who makes $25,000 more than her male counterpart.
Trump was hit by sexism allegations from critics after Fox News host Megyn Kelly reminded viewers of past unkind comments he had made about women.
Cohen said the numbers on women's pay prove Trump not only values women, but makes sure their performance is rewarded.
"Unlike the others -- like Hillary (Clinton) ... said that she's the only one that can really understand women's rights and so on -- Donald Trump's been living this for more than 30 years. He's not a gender-based payer. He's really a performance-based payer, meaning if you do the job he doesn't care if your name is Mary or it's Joe," Cohen said.
---