A school board meeting in Effingham County, Georgia, turned heated as residents fought back against an effort to change a local high school's "Rebels" mascot, usually depicted as a Confederal soldier with a Confederate flag.
A "small group of people," including the head of the local NAACP, showed up at the Tuesday night meeting, but were outnumbered by an "overwhelming majority" of people who expressed support Effingham County High School's mascot, WOTC-TV reported.
Effingham NAACP President Leroy Lloyd told the school board meeting attendees that their petition seeks to "right the wrong that should have been corrected 60 years ago." The petition calls on the school to replace its Confederate-themed mascot and its "Dixie" fight song.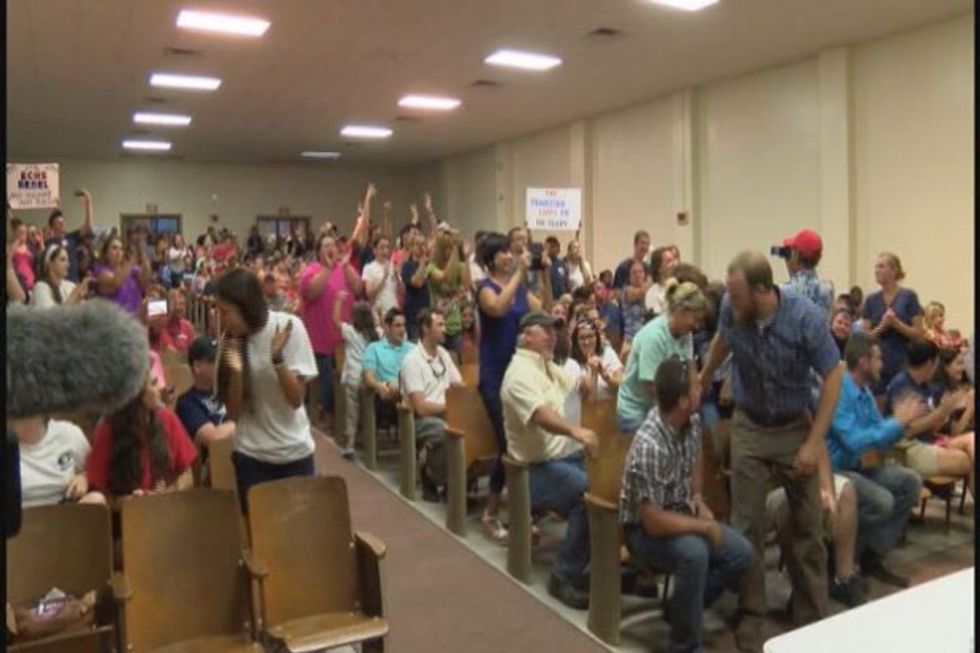 (WTOC-TV screengrab)
A local pastor, Franklin Blanks, Jr., also asked the community to "do what is fair and honest" and represent "all citizens" by removing the divisive symbols.
But some defiant residents pushed back during the meeting, which appeared to remain tense throughout.
"You try to erase my heritage, you try to erase anything you think is racist. But the whole time you were up here, sir. I apologize, but everything you said was racist," resident Stanley Carter reportedly said, prompting cheers and applause.
Effingham County High School alumna Mary Woods told WTOC-TV:
"I didn't go to Effingham County School because of that Rebel Flag. That Rebel Flag didn't mean nothing to me, it was simply a mascot for the school. That flag to me -- gave me the inspiration to fight, to do more in life, it's a fighting thing."
WTOC-TV: Savannah, Beaufort, SC, News, Weather
Some of the hundreds of people in attendance were reportedly "nearly escorted out" by police as the meeting teetered on the edge of disorder. The Savannah Morning news reported more than 500 people packed the school board meeting in Effingham.
The school board will now discuss the community input and decide on the matter during a future meeting.
---