Three Americans and a British consultant have been heralded as heroes for tackling a man armed with a gun and a knife from potentially massacring several passengers aboard a high-speed train in France Friday.
According to reports, U.S. Air Force serviceman Spencer Stone, National Guardsman Alek Skarlatos and Sacramento State University student Anthony Sadler all helped subdue the man who was wielding a Kalashnikov and a knife. Chris Norman, a 62-year-old British native, also helped the trio.
"As he was cocking it to shoot it, Alek just yells, 'Spencer, go!' And Spencer runs down the aisle," Sadler said. "Spencer makes first contact, he tackles the guy, Alek wrestles the gun away from him, and the gunman pulls out a boxcutter and slices Spencer a few times. And the three of us beat him until he was unconscious."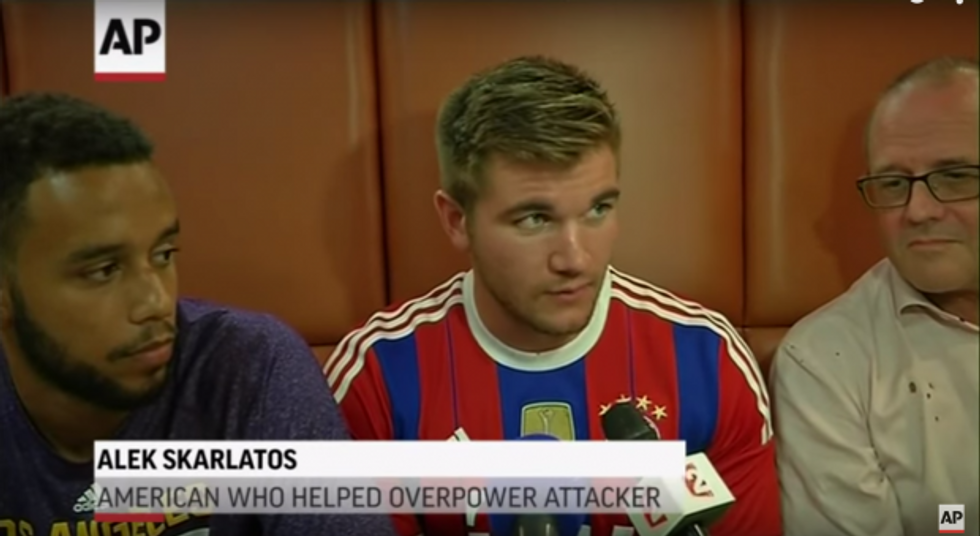 Image source: YouTube
"I didn't know what it was at first until I saw a train employee run past us," Skarlatos said.
Skarlatos said Stone, who was the first to reach the gunman, suffered some cuts during the altercation. He remained hospitalized Saturday. Skarlatos then described how the men all beat the "terrorist" in the head until he was unconscious in order to subdue him and tie him up.
Norman told the press that after the man had been subdued, Stone helped another passenger on the train who had been shot.
"Spencer, even after beating the guy up, he went over there and clogged the guy's throat so he didn't die," Anthony Sadler said. "So they say that guy owes Spencer his life, too. He saved him from bleeding out because he was bleeding everywhere."
"It seemed like ages to get into the train station because we had this injured person with us," Norman described.
French Interior Minister Bernard Cazeneuve said the suspect is believed to be a 26-year-old Moroccan who Spanish authorities had been watching due to his supposed ties to radical Islam, although that has not yet been confirmed.
An official linked with Spain's anti-terrorism unit told USA Today that the suspect supposedly lived in Spain until 2014 when he moved to France. He had also made a recent trip to Syria.
A Pentagon spokesperson has confirmed that one U.S. serviceman was injured during the attack, but his injuries were "not life-threatening."
Jean-Hugues Anglade, a French actor who was wounded during the shooting, has slammed the train's staff for allegedly running away and locking themselves inside their working car during the shooting.