Republican presidential candidate Carly Fiorina spoke highly of her Democratic opponent Hillary Clinton Sunday morning, but despite those praises, she still doesn't think Clinton is fit to be the next president.
"She's a hardworking woman, she's an intelligent woman, she has dedicated herself to public service," Fiorina told NBC's Chuck Todd. "It is also true, however, that she is not trustworthy, that she has lied about some key things — Benghazi, her emails, her server."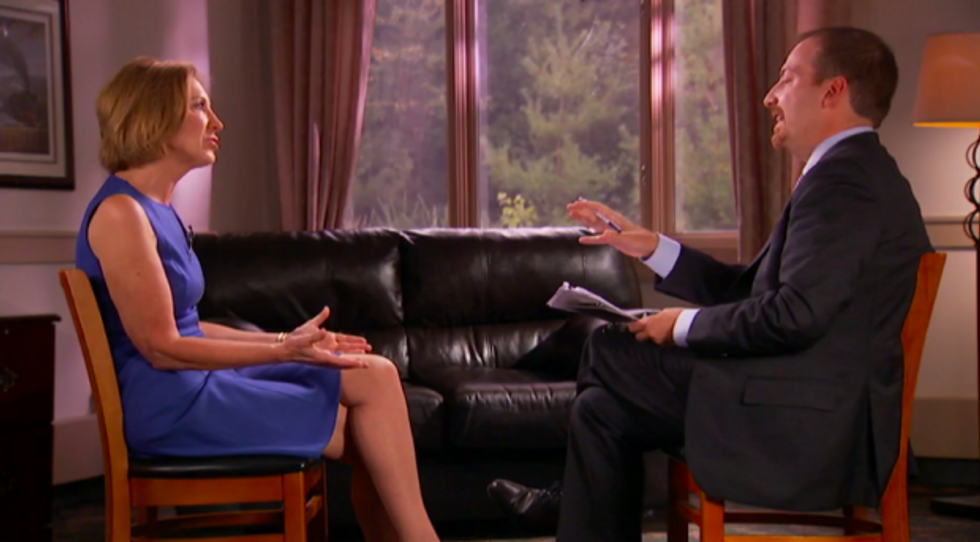 Image source: NBC News
When Todd pressed Fiorina on whether she could say for sure Clinton had lied about Benghazi during Sunday morning's "Meet the Press," Fiorina slammed Clinton for initially blaming the attacks on a video instead of calling it a premeditated terrorist attack.
Fiorina told Todd "perhaps not" when he asked if without Clinton's 2008 presidential bid she'd be taken as a serious presidential candidate.
"She was the first serious woman candidate for president," Fiorina said. "We do owe her a debt of gratitude."
Watch a clip of Fiorina's interview below.