© 2023 Blaze Media LLC. All rights reserved.
Watch How Liberal Guest Reacts When Anchor Repeatedly Asks Him This 'Direct' Gun Control Question Regarding WDBJ Shooting
"Answer the question..."
Former Clinton administration official David Goodfriend was seemingly unable to come up with an answer on Thursday when Fox News host Greg Jarrett asked him twice what specific gun law could have prevented Wednesday's shocking WDBJ shooting.
The suspected killer, Vester Lee Flanagan, also known as Bryce Williams, reportedly purchased the gun used in the shooting legally and passed a background check.
"Answer the question, what law would've stopped this?" Jarrett asked.
"This is not a particular case — it's the number of deaths per year," Goodfriend said. "I'll answer the question if you'll let me."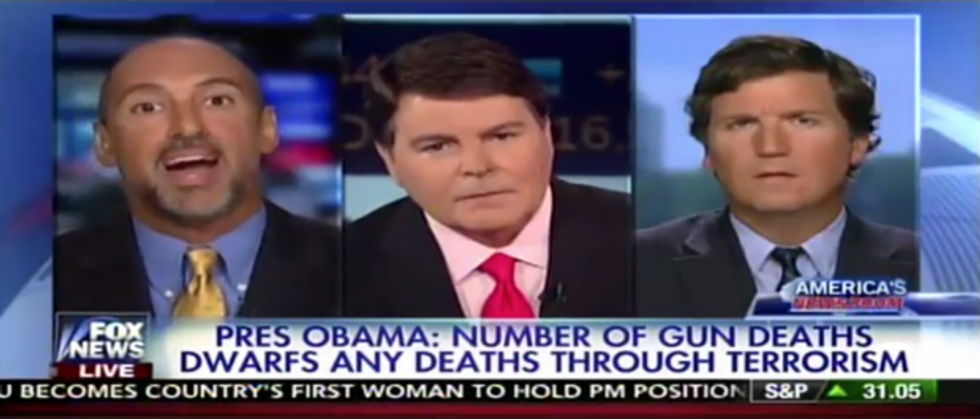 Fox News
However, he continued to skirt the question, instead citing the so-called "gun show loophole," which he said criminals can use to get around the background check system. Again, Flanagan reportedly went through the background check system.
After some back-and-forth, Jarrett called out Goodfriend again.
"In all honesty…You did not answer my direct question," the anchor said. "What law would've stopped this from happening yesterday? You haven't given me an answer — you said you would and you didn't."
Here's how the former Clinton official responded:
"Yesterday's incident is one among tens of thousands. If you are going to say one law change is going to affect yesterday's incident, I say to you, Tucker Carlson just conceded changes to law could reduce the number of deaths per year."
It should be noted that Goodfriend took Fox News contributor Tucker Carlson wildly out of context in making the gun control argument. Carlson merely denied arguing that there were no changes whatsoever that could be made to U.S. law that would result in fewer gun deaths.
Goodfriend never cited a law that could've prevented the WDBJ shooting.
---
Want to leave a tip?
We answer to you. Help keep our content free of advertisers and big tech censorship by leaving a tip today.
more stories
Sign up for the Blaze newsletter
By signing up, you agree to our
Privacy Policy
and
Terms of Use
, and agree to receive content that may sometimes include advertisements. You may opt out at any time.