At its worst, Shannon Locke's epilepsy caused her to suffer up to 20 seizures a day, becoming so debilitating that she dropped out of school, lost friends and rarely left her house.
"It was a terribly dark time," the 21-year-old U.K. woman told the Belfast Telegraph.
Eventually coming to terms with her condition and learning to better manage her epilepsy, Locke moved out of her parents house, but got a golden Labrador retriever puppy she named Poppy as company.
Then she started noticing Poppy's strange behavior.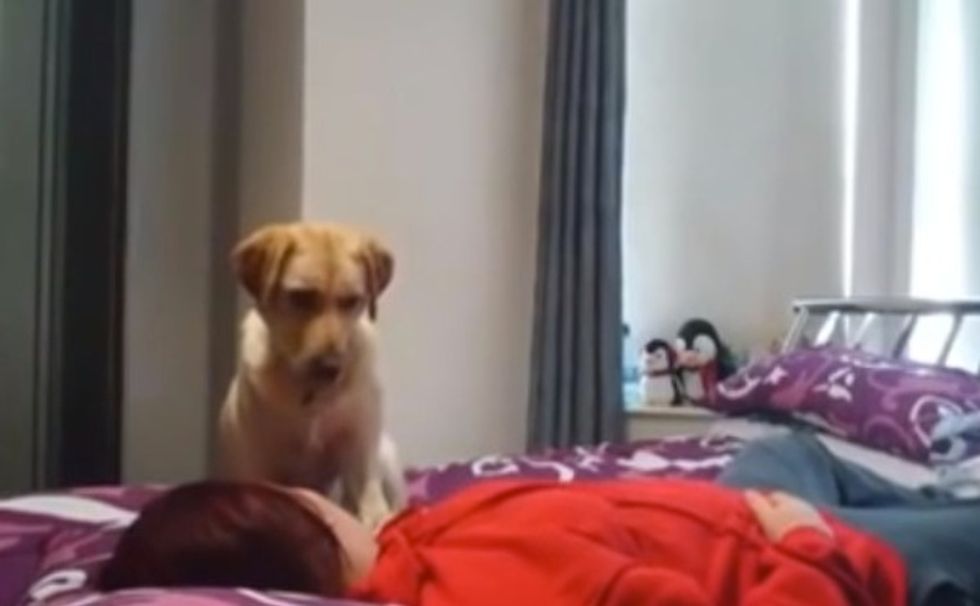 The dog, Poppy, can apparently sense when Locke is about to have a seizure, alerting her and giving her time to get to a safe place. (Image source: YouTube)
"At first, she would sit and stare at me, then sometimes she would pant and pace around," Locke told the Telegraph back in July. "I didn't make a connection straight away, and took her to the vet as I thought there was something wrong with her."
There wasn't anything wrong with Poppy though. Her behavior was apparently associated with the onset of Locke's seizures.
Locke reached out to Ph.D. student Neil Powell at Belfast University, who was known to train search and rescue dogs, and he has been working with Poppy to alert Locke to oncoming seizures ever since. This allows her to get herself into a safe situation before one starts.
"Poppy's ability has given me a life again," Locke told the newspaper.
More recently, Locke posted a video of what such an alert looks like.
"I've thought long and hard about posting this as it's incredibly embarrassing... But this is epilepsy," she wrote in a Facebook post. "My gorgeous seizure alert dog Poppy alerted me to this 15 minutes before,which [sic] gave me time to set the camera up. Poppy is amazing and not only does she alert me but she brings me out of the post icle stage of a seizure. I hope everyone can now see how amazing she is my beautiful life saving fur baby, who I would die without (literally!!)"
The four-minute video shows Poppy paw at Locke, who was on her bed, and stare intently at her. One minute and 35 seconds into the video, Locke starts to experience a seizure, her arms and legs shaking. Less than 30 seconds later, Poppy is licking her face, which the video explained helps reduce saliva around Locke's mouth that could cause her to choke and also helps bring her back around.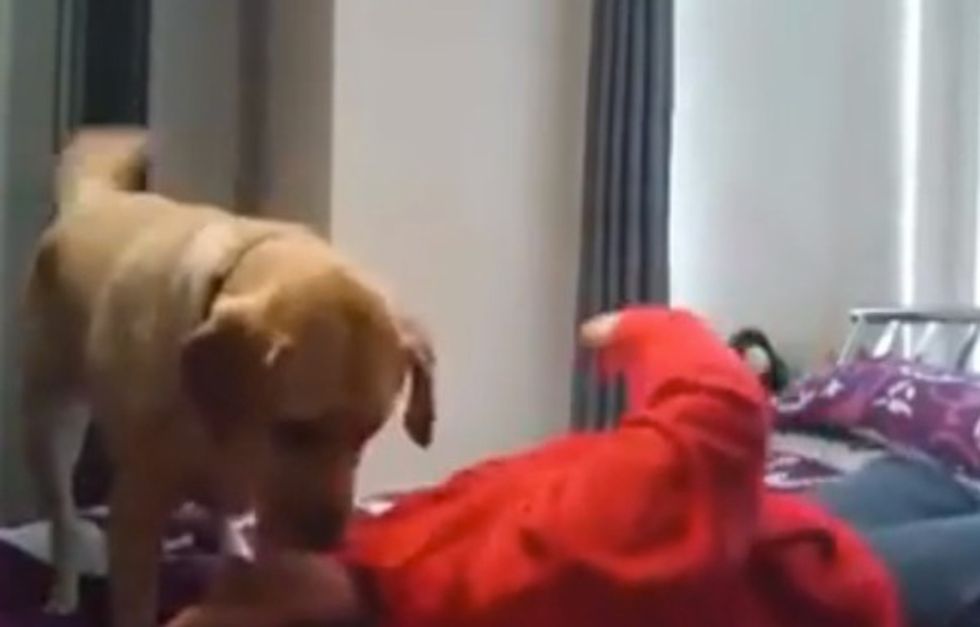 Image source: YouTube
About a minute after the seizure began, Locke's body starts to release, her breathing heavy but regular. Two minutes after the seizure began, Locke pets Poppy.
Watch the video:
But that's not all Poppy knows how to do. She also can retrieve medication:
Currently, Powell is researching the ability of some dogs to predict such seizures, hoping to identify what cues the canines are picking up on in the first place, a news release from the university stated.
The research on dogs that apparently detect seizure events is still scant and the Epilepsy Foundation states that it believes more research is needed, cautioning people to "be very wary of any claims or programs that offer to train or provide 'seizure predicting' service animals."
In a 2004 National Geographic article, Sharon Hermansen with Canine Seizure Assist Society of North Carolina said the ability seems to be something the dogs are born with, not that they're trained to sense. They can be trained to perform tasks and functions to help an epileptic patient though.
(H/T: Daily Mail, Belfast Live)