TheBlaze TV host Dana Loesch got into a heated on-air confrontation with a gun control advocate on "The Kelly File" Thursday as the two women strongly disagreed on the effectiveness of strict firearms restrictions.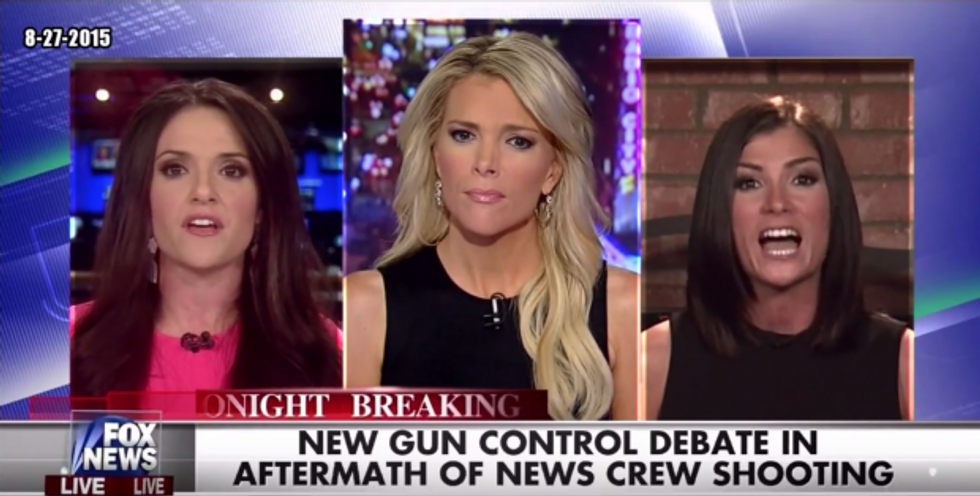 Fox News
Nomiki Konst, the founder of the Accountability Project, first claimed that states with "lax" gun laws have more gun murders than in other parts of the country and argued a better background check system could help reduce violence. Loesch argued the opposite. Depending on who is conducting the study, statistics have varied on the issue.
When Loesch was asked how to prevent crazy people -- like WDBJ shooter Vester Flanagan -- from getting guns, Loesch replied, "We can follow the laws that we have on the books."
"The case of Virginia Tech, that particular murderer in that case had gotten in trouble. He had to seek mental health, he had to go and undergo these mental health checkups weekly…and nobody followed up on it," she said.
She also noted how officials apparently failed to enter Charleston shooter Dylann Roof's criminal history into the system correctly. Roof should not have been able to buy a gun because he had been charged with a felony, she added.
When Konst claimed a "federal gun registry" has "prevented 2.1 million criminals from accessing guns," Loesch immediately replied, "false."
"First off, I'm not sure where you're getting the statistics," Loesch said, adding that there's "no conclusive evidence" that background checks significantly reduce gun violence.
"It's the laws on the books," she said. "The fact is, we have a criminal problem."
Watch the tense segment, which ended with the women still arguing, via "The Kelly File" below:
---