President Barack Obama issued one of his most dire warnings about climate change Monday, in Anchorage, Alaska, where he will spend the bulk of the week highlighting the issue that has been a priority in his administration.
"If we stopped trying to build a clean energy economy and reduce carbon pollution, if we do nothing to prevent glaciers from melting faster and oceans from rising faster, and forests from burning faster and storms from growing stronger, we will condemn our children to a planet beyond their capacity to repair," Obama said speaking at the GLACIER Conference.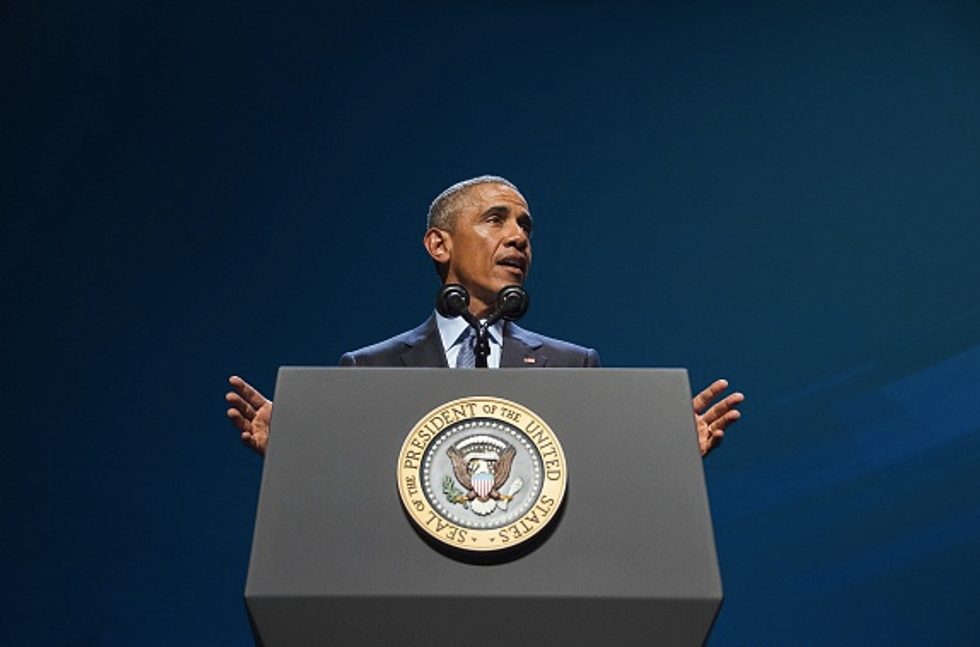 ( JIM WATSON/AFP/Getty Images)
The president explained the consequences would be: "submerged countries, abandoned cities, fields no longer growing, indigenous people who can't carry out traditions that stretch back millennial, entire industries of people who can't practice their livelihoods, desperate refugees seeking the sanctuary of nations not their own, political disruptions that could trigger multiple conflicts around the globe."
GLACIER stands for Global Leadership in the Arctic: Cooperation, Innovation, Engagement and Resilience.
The president went on to blast those who are skeptical of climate change.
"Any so called leader who does not take this issue seriously or treats it like a joke is not fit to lead," Obama said. "On this issue, of all issues, there is such a thing as being too late. And that moment is almost upon us."
The president noted the agreement the United States and China reached to reduce carbon emissions. But, he added, even those countries can't do it alone and it will require a global agreement at the upcoming climate conference in Paris.
"This year in Paris has to be the year that the world finally reaches an agreement to protect the one planet we've got while we still can," Obama said.
Otherwise, the president presented a somewhat frightening future.
"People will suffer. Economies will suffer. Entire nations will find themselves under severe, severe problems," Obama said. "More drought. More floods. Rising sea levels. Greater migration. More refugees. More scarcity. More conflict."