An Israeli soldier said he and his comrades-in-arms were left stunned when an American family traveling in Israel quietly picked up their dinner tab at a restaurant.
The solder sent a photo of the bill to the website Humans of Judaism, which posted the picture. On top of the 356 shekel bill — about $90 before tip — was a handwritten thank-you note.
"Thank you for defending our homeland," the New Jersey family wrote, signing it, "With great appreciation and love."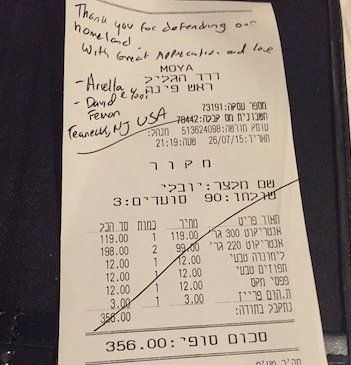 "A sweet American couple next to us" had already paid for their meal when a soldier and his friends asked for the bill. (Image source: Humans of Judaism)
According to the receipt, the soldiers' dinner included steak, home fries, lemonade, orange juice and cola.
One of the soldiers sent the photo and the back story to the editor of the Humans of Judaism blog. He wrote:
This is a story that will touch your heart. I am a company leader stationed up north. This occurred on [Jewish fast day of] Tisha B'Av and I went with two fellow soldiers to break our fast in Rosh Pina [Northern Israel]. You can imagine how utterly hungry we were after working all day long. We ate our food and asked for the check. To our surprise a sweet American couple next to us had already paid for it. Needless to say we were blown away to see that there are fellow Jews 6,000 miles away who have such a deep connection and care for us as soldiers. The owner of the restaurant was deep in shock by this act and gave them dessert on the house.
Humans of Judaism website founder Nikki Schreiber told TheBlaze that the family paid for other soldiers' meals while they toured the country this summer.
Schreiber said when she contacted the charitable couple, the husband said he wasn't looking for fame.
"He was quite reluctant, but the only reason he agreed to allow it to be posted publicly was in the hopes to inspire others to do the same (which he very much did)," Schreiber said.
Beyond the information she posted on social media, Schreiber told TheBlaze that the soldier, who asked to remain anonymous, told her, "It seems like there were other soldiers up in Metula [in Northern Israel] that same week who all said that a certain couple paid for their meals randomly."
"He showed them a photo he took with the couple and that was them! This couple was all over Israel that week picking up the checks of any soldiers they encountered," Schreiber said.
The family responded over the weekend to the appreciation others on social media expressed for their charitable act. The photo of the receipt has been shared on other Jewish and pro-Israel social media pages, including by Stand With Us.
"We are honored that this went viral but honestly did not think much of it when we did the act. We sincerely hope that this causes others to do the same for our wonderful soldiers," the tourist wrote on Facebook.