© 2023 Blaze Media LLC. All rights reserved.
Predominantly Black Church Ransacked by Vandals Who Poured Bleach on Pews and Left Satanic and Racist Messages in Alleged Hate Crime
"Hurtful is deep, but this went deeper."
Police are investigating acts of vandalism that caused extensive damage inside of a San Francisco church after faith leaders discovered homophobic, racial and satanic references spray painted on walls and property inside of St. Paul's Tabernacle Baptist Church.
The messages, which were also found inside of the Rev. Greg Valentine's ransacked office, came along with smashed windows as well as the absolute saturation of pews with bleach, in an incident that unfolded last Friday at church, KQED-TV reported.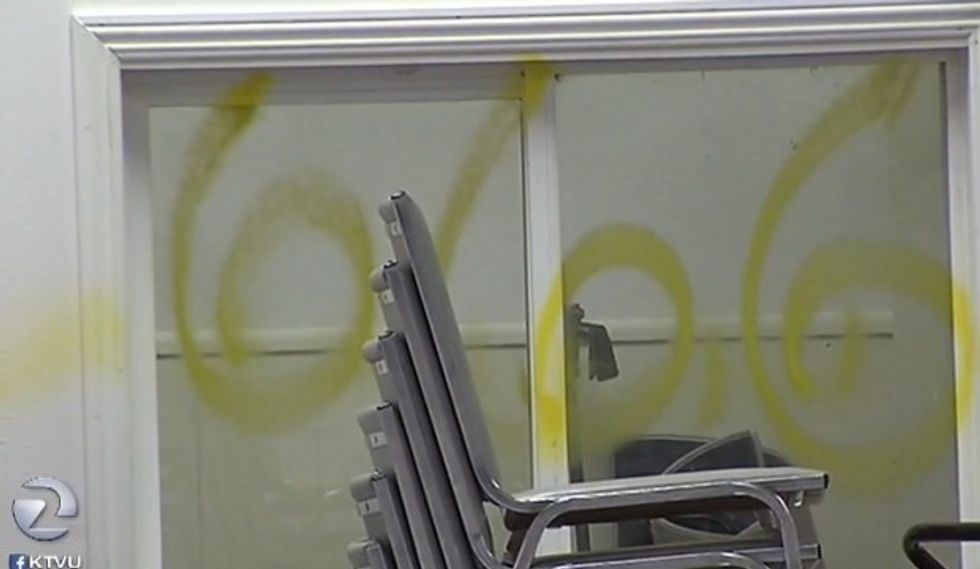 Graffiti at St. Paul's Tabernacle Church in San Francisco (KTVU-TV)
Authorities also discovered "666" on the predominately black church's back wall and on a couch in Valentine's office. While a motive is not yet known, no items were stolen, leading some members to contend that it was a hate crime.
"Hurtful is deep, but this went deeper," Valentine told KTVU-TV. "Oh, I couldn't even tell you what the cost is of the damage. The mirrors, the holes in the walls..."
It is believed that the vandals entered through a backdoor, which was later discovered to have been broken.
"Who could have done this to us? Why us?" St. Paul's Tabernacle Baptist Church deacon Willie Fenroy told KQED-TV. "Because you got eight other churches in the surroundings, and we the only ones that got hit that day."
Despite the painful experience, the church held a service on Sunday, focusing in on the power of forgiveness.
An interfaith group, including Jewish and Muslim supporters, have come together to help the church recover, KQED-TV reported.
Damage at St. Paul's Tabernacle Church (KTUV-TV)
And Showing up for Racial Justice, which describes itself as a "national network of groups and individuals organizing white people for racial justice," is organizing a fundraiser to assist the church as well.
Want to leave a tip?
We answer to you. Help keep our content free of advertisers and big tech censorship by leaving a tip today.
more stories
Sign up for the Blaze newsletter
By signing up, you agree to our
Privacy Policy
and
Terms of Use
, and agree to receive content that may sometimes include advertisements. You may opt out at any time.