Speaking to the congregation at The Crossing Church in Tampa, Florida, Glenn Beck said it was time for the country to "wake up."
Beck told the congregation that when he'd asked what message he should give to the church, The Crossing Church's Pastor Greg Dumas said "wake people up and get them to understand how dire things are in the Middle East and that we must stand for all those who evil is trying to kill and exterminate."
During Beck's message, he said "we are in extraordinary times" and discussed the Christian refugees fleeing countries such as Iraq and Syria and implored the congregation to help extract their fellow Christians. According to him, Beck's own project, the Nazarene Fund, raised $6 million in two weeks to help evacuate those refugee Christians and settle them in new homes.
"We're having to bring those people out and send them to different countries because the Statue of Liberty means nothing anymore," Beck said. "Tell me about the tired, the poor, the huddled masses. Tell me about the tempest-tossed if it's not those Christians now. And we've closed our doors. We will transplant entire Muslim Somali communities, and we'll pick up the entire community and plant it in Minneapolis-St. Paul. But we will not take the Christians that are being beheaded, that are being slaughtered, that are being enslaved. We're turning our back on those people."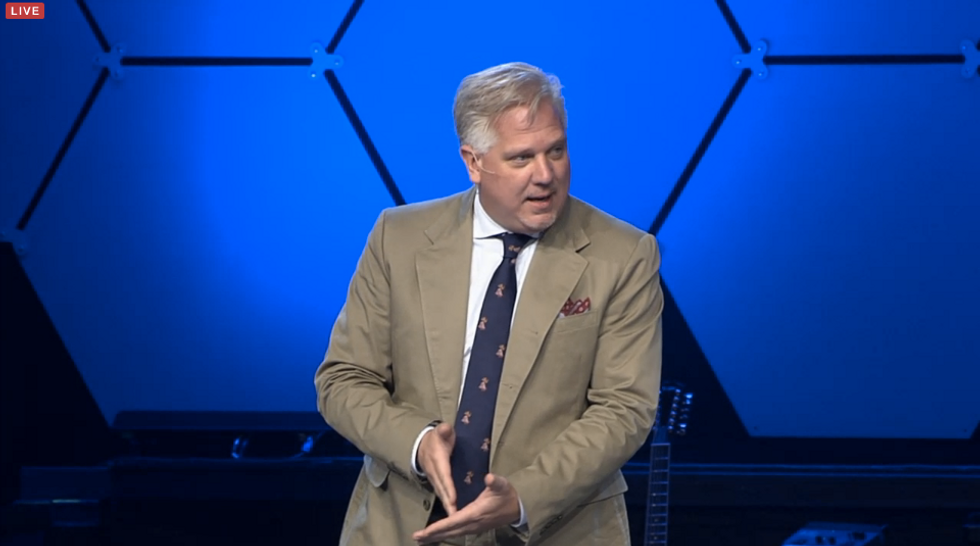 Image via The Crossing Church livestream screenshot
Beck also encouraged the congregation to be the "giants that historians will look back to in years to come."
"God has blessed us in such a way, that He has raised up righteous people who knew who to use video equipment, knew how to use the Internet, know how to go undercover and go into Planned Parenthood operations and expose them without getting sullied themselves, without making the story about them," Beck said.
"Now, there's no doubt, they are literally reaching into the womb of a mother and pulling a baby out — breaking off its leg and pulling it out, breaking off its arm and pulling it out," Beck said.
Beck told the congregation to "stop listening to the liars" who say "we're America, we'll never fall."
"I happen to believe this is a sacred land. I believe this is a sacred place that God has allowed things to happen here that have changed humanity forever," Beck said. "The world is a better place because Americans lived. I can't say the world will be a better place because of the direction we're currently going in, and it has nothing to do with politics. It has everything to do with, 'is that life?' If it is, that's your brother, that's your sister in that petri dish. That is God's child in that petri dish. You cannot be silent anymore."
"If we're [God's] children, then we have powers, rights and responsibilities as His children," he said. "And it's time to stop talking about our rights and start living up to our responsibilities."
Beck spoke at The Crossing Church Sunday twice as part of his weekend "church tour" in Florida. He is also scheduled to speak later Sunday afternoon at the Church of Jesus Christ in Valrico, Florida.  
Glenn Beck // The Crossing Church from The Crossing Church on Vimeo.