Los Angeles Mayor Eric Garcetti announced late last week that the city would soon become the host to the largest city-owned fleet of electric vehicles in the U.S.
The city plans to lease 160 pure battery EVs and 128 hybrid electric vehicles to replace older city-owned vehicles with traditional engines. The vehicles will be used by police and fire departments as well as water, power and others.
"Today, we take another step toward becoming the most sustainable city in America," Garcetti said in a statement. "This year, Los Angeles will become home to the largest city-owned fleet of pure battery electric vehicles anywhere in the country, and we will save taxpayer dollars along the way."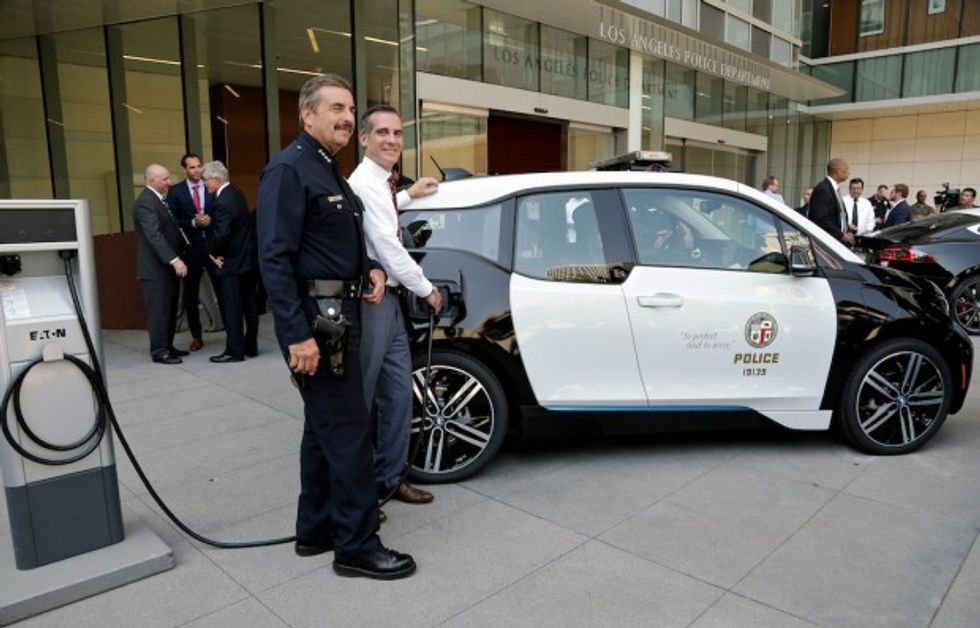 Los Angeles Police Chief Charlie Beck, left, and Mayor Eric Garcetti pose next to an all-electric car after a news conference announcing the city's transition to green energy vehicles for its fleet purchase, outside the Police Administration Building in Los Angeles on Friday, Sept. 11, 2015. (AP/Nick Ut)
Overall, the city's ultimate goal is to have 50 percent of its light-duty fleet electric by 2025.
In addition to these 288 EV and hybrid vehicles currently joining the city's fleet, the Los Angeles Police Department is also being loaned a Tesla Model S P85D and a BMW i3 for testing.  
"The LAPD is proud to be among the law enforcement agencies leading the way to sustainability with the use of electric vehicles, and reducing our operating costs at the same time," LAPD Chief Charlie Beck said in a statement.
The news release from the mayor's office made it clear that the EVs being used by police will be dedicated primarily for detectives, investigators and administrative employees. The two test vehicles on loan to the LAPD though, Police Administrator Vartan Yegiyan told City News Service, will be tested for both non-patrol and patrol uses.
"What LAPD wants to do is learn about the electric vehicles, learn and test how they operate and how they function in every day business and also apply electric vehicles on the road the way police officers drive," he told the publication.
Carbuzz called the addition of the BMW i3 an "interesting choice," but lauded the Tesla, saying "we can't think of a better electric vehicle." USA Today came right out and called the BMW i3 "puny."
With this update to its municipal fleet, the city expects to cut operating costs by up to 41 percent and reduce greenhouse gas emissions to what it equates to as planting more than 20,000 trees.