There's been no shortage of controversy surrounding defiant Kentucky clerk Kim Davis' continued decision to refuse to grant same-sex marriage licenses in her name — a stance that landed her behind bars for five days earlier this month.
But as division continues over whether Davis is legally — and morally — right to stand her ground, a conservative organization that opposes gay marriage has plans to award her for her "courage," as she continues to fight for a religious exemption for public officials such as herself.
The Family Research Council will give Davis the "Cost of Discipleship Award" at the Values Voter Summit, a conservative social and political gathering that will unfold from September 25-27 in Washington, D.C.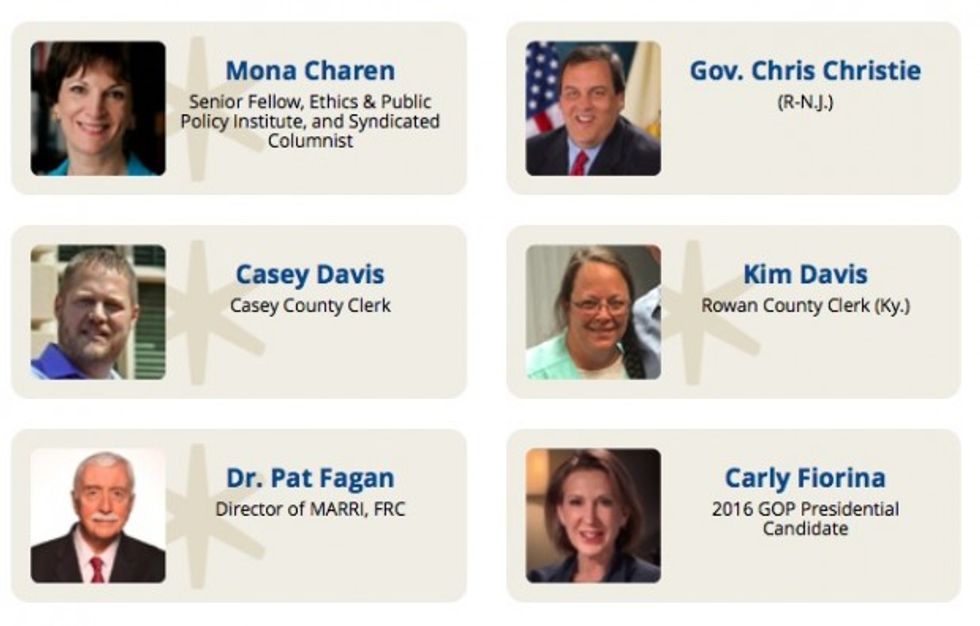 A screen shot that shows Rowan County clerk Kim Davis will be speaking at the Voter Value Summit
Davis will be joined at the event by conservative speakers and Republican presidential candidates, including: Dr. Ben Carson, Sen. Ted Cruz, Sen. Lindsey Graham, Gov. Mike Huckabee, Gov. Bobby Jindal, Sen. Rick Santorum, Gov. Scott Walker, Gov. Chris Christie and Carly Fiorina.
Last year, the "Cost of Discipleship Award" honor was given to Mariam Ibraheem, the Sudanese Christian woman who was nearly put to death for apostasy in her home country, before being released and finding safe haven in the United States.
"One year after we honored a mother imprisoned for her faith in Sudan, no one imagined an American woman would be next," Family Research Council president Tony Perkins said in a statement. "On Friday night, we'll not only praise Kim for her stance but pray for the nation we've become."
Perkins, who met with Davis last week, said that he doesn't believe that the Rowan County clerk was "looking for this fight," but that he knows that she is "not running from it either."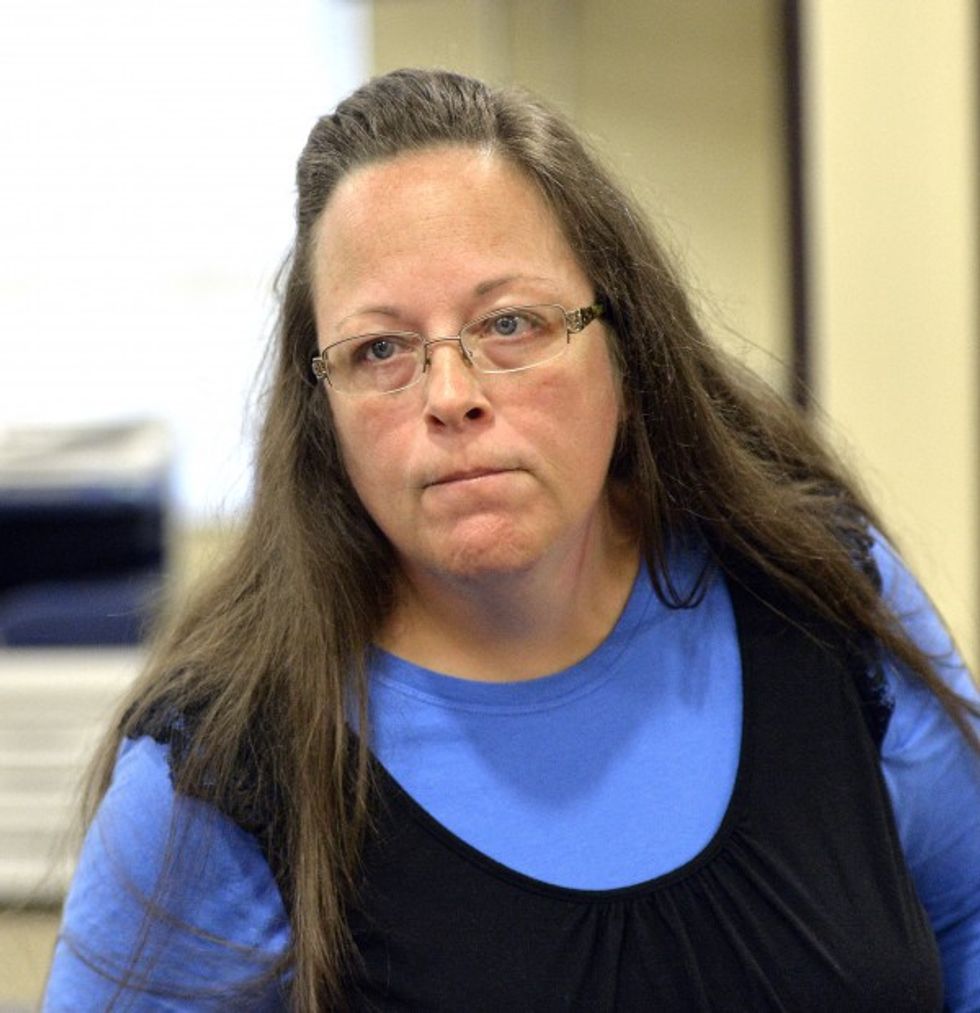 Rowan County Clerk Kim Davis listens to a customer following her office's refusal to issue marriage licenses at the Rowan County Courthouse in Morehead, Ky., Tuesday, Sept. 1, 2015. (AP Photo/Timothy D. Easley)
"What militant secularists are almost certainly afraid of is what is coming to pass: courage is breeding courage. When other people might have cowered in fear, Kim took a stand," he said. "And today, millions of Americans stand with her and for the religious freedom upon which our nation was founded."
Perkins believes that Davis is changing the conversation surrounding gay marriage and religious exemptions, and that her much-publicized stance is having a political impact, as leaders in some areas of the country are considering how to prevent similar battles from unfolding.
(H/T: Christian Post)
Follow the author of this story on Twitter and Facebook: