Seattle Seahawks star Richard Sherman opened up a press conferenced Wednesday by sharing his thoughts on the Black Lives Matter movement and law enforcement.
The cornerback decided to make the comments after a post against a radical self-proclaimed Black Lives Matter activist who called for a war against police was recently authored in his name. Sherman denied penning the article, but said there were some points he "could agree with."
"I don't think any time's a time to call out for an all-out war against police or any race of people. I thought that was an ignorant statement," Sherman said.
He continued, "But as a black man, I do understand that black lives matter. You know, I stand for that, I believe in that wholeheartedly. But I also think that there's a way to go about things, and there's a way to do things."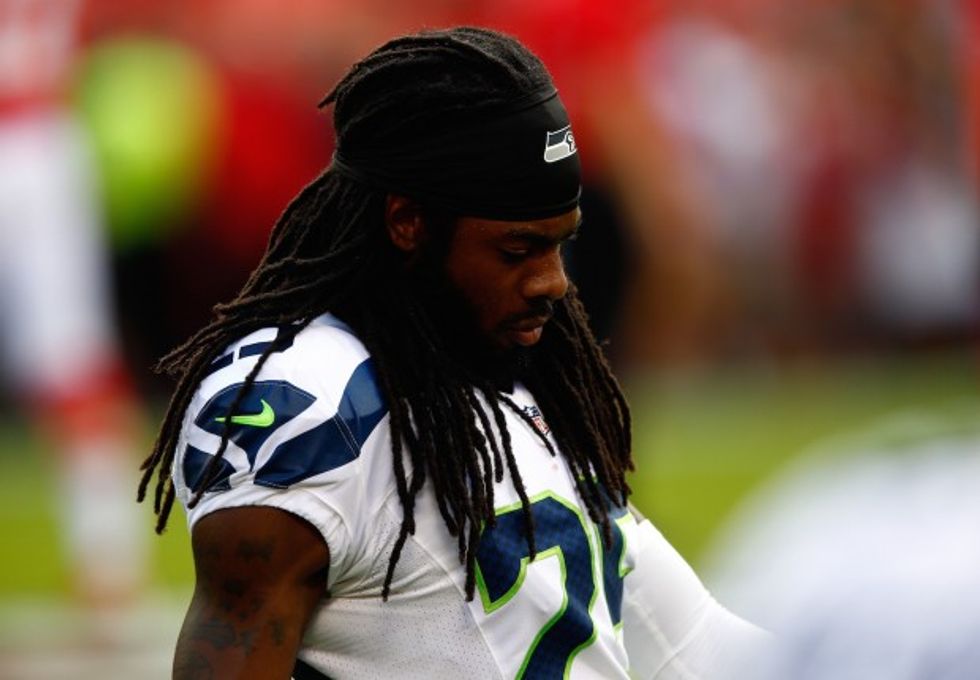 Jamie Squire/Getty Images
Sherman explained that one of the chief issues afflicting black communities is black-on-black violence.
"From personal experience, you know, you have living in the hood, living in the inner city, you deal with things, you deal with people dying. Dealt with a best friend getting killed — it was two 35-year-old black men. Wasn't no police officer involved, wasn't anybody else involved, and I didn't hear anybody shouting 'black lives matter' then," he said.
[sharequote align="center"]"...if black lives matter, then it should matter all the time."[/sharequote]
"I think as long as we have black-on-black crime and, you know, one black man killing another — if black lives matter, then it should matter all the time. You should never let somebody get killed — that's somebody's son, that's somebody's brother, that's somebody's friend. So you should always keep that in mind," Sherman added.
The NFL star then offered a defense for members of law enforcement.
"And there's a lot of dealings with police officers right now, I don't think all cops are bad," he said. "You know, I think there's some great cops out there, who do everything in their power to uphold the badge and uphold the honor and protect the people in society. But there are bad cops, and I think that also needs to be addressed."
Sherman concluded his remarks with a unifying message.
"The climate we're in — everybody's being more accepting, you know, so I think the ignorance should stop. I think people realize that, at the end of the day, we're all human beings. So, you know, before we're black, white, Asian, Polynesian, Latino — we're humans. So, it's up to us to stop it. Thank you."
—
Follow the author of this story on Twitter and Facebook: