President Barack Obama praised the three Americans who stopped a terror suspect in a train in Paris last month.
"They represent the very best of America, American heritage, and it's these kinds of young people who make me extraordinarily optimistic about the future," Obama said in the Oval Office Thursday, along with U.S. Army Spc. Alek Skarlatos, U.S. Air Force Airman 1st Class Spencer Stone and Sacramento State University student Anthony Sadler. "I thank each and every one of them and wish them well."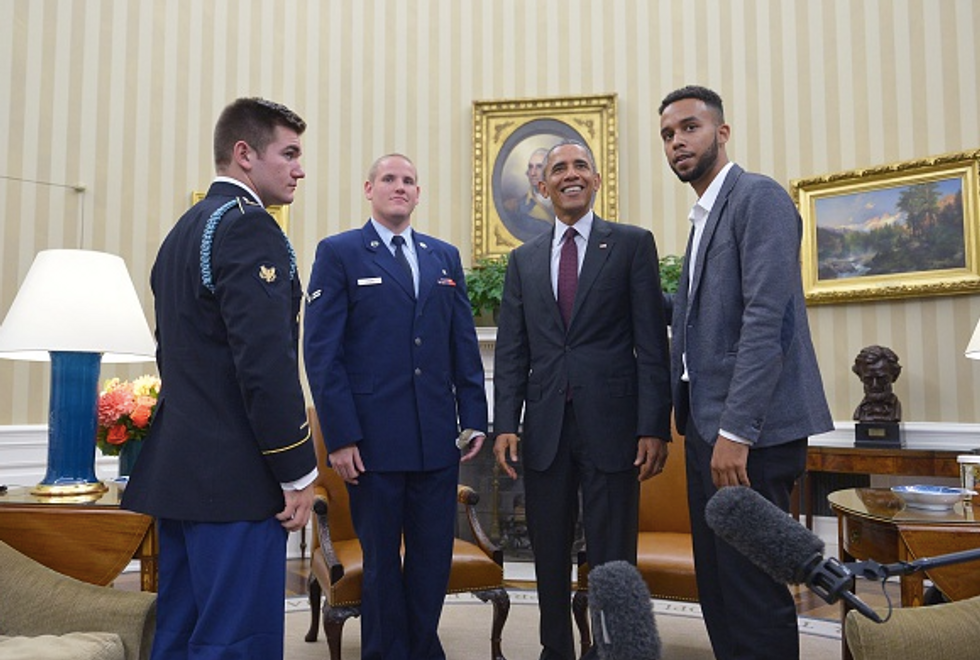 President Barack Obama poses with U.S. Army Spc. Alek Skarlatos (L), U.S. Air Force Airman 1st Class Spencer Stone (2nd L) and Anthony Sadler (R) following a meeting on Sept. 17, 2015, in the Oval Office of the White House. The three friends helped overpower a gunman on a Paris-bound train on Aug. 21. (Mandel NganAFP/Getty Images)
The three helped subdue a gunman aboard a train in Paris in August. Obama remarked that they were not planning on being in danger.
"I think all of you are familiar with the incredible story of three high school friends who were getting together, two of whom had served in uniform on behalf of the United States armed forces, thinking that they were just going to have a fun reunion in Paris and ended up engaging a potential catastrophic situation and pinning down someone who clearly was intent on doing a lot of harm to a lot of people, inflicting terror on the French people," Obama said.
The president noted Skarlatos would be on the cast of "Dancing with the Stars" before going into law enforcement, while the others would be going into medicine.
"Whatever they may do, they're going to do it well, and we just wanted to say 'thank you' to them not only for saving so many lives but also for making America look so good," Obama said.