Republican presidential contender Carly Fiorina has fiercely defended her claim during the GOP debate last week that undercover Planned Parenthood video footage shows a "fully formed fetus" alive on a table as "someone says we have to keep it alive to harvest its brain."
Fiorina again refused to back away from these comments during an appearance on "Fox News Sunday" after host Chris Wallace said that her call for the defunding of Planned Parenthood was her "biggest moment of the debate," but questioned the accuracy of her statements.
"Do you acknowledge what every fact-checker has found that as horrific as that scene is, it was only described on the video by someone who claimed to have seen it?" he said. "There is no actual footage of the incident that you just mentioned."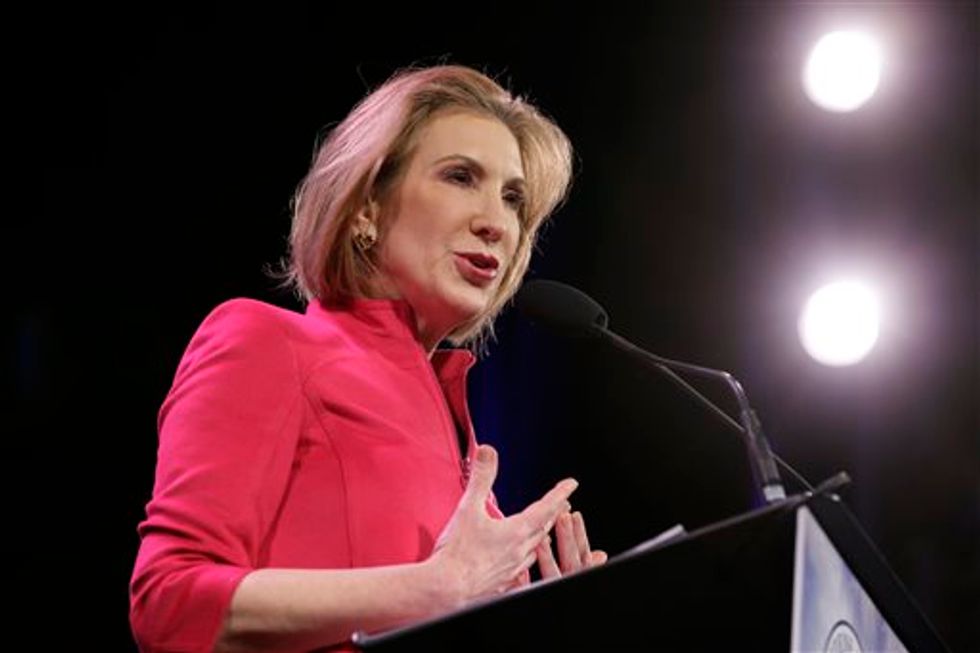 Former technology executive Carly Fiorina speaks during the Freedom Summit, in Des Moines, Iowa. (AP Photo/Charlie Neibergall, File)
But Fiorina wasn't willing to agree with this sentiment.
"No, I don't accept that at all. I've seen the footage," she responded. "I find it amazing, actually, that all these supposed fact-checkers in the mainstream media claim this doesn't exist. They're trying to attack the authenticity of the video tape."
Fiorina said that she has not encountered many in the media who have actually watched the clips from the Center for Medical Progress, a pro-life group that targeted Planned parenthood, and she expanded a previous challenge that she had made to President Barack Obama and Democratic candidate Hillary Clinton to view the footage.
"I will continue to dare anyone who wants to continue to fund Planned Parenthood — watch the video tapes," Fiorina said.
Watch Fiorina's comments at the 2:50 mark below:
As TheBlaze previously reported, some on the left are accusing Fiorina of lying during the GOP debate last week about clinic visits and discussions with Planned Parenthood staffers that were secretly recorded by the Center for Medical Progress.
"Anyone who has watched this video tape — I dare Hillary Clinton, Barack Obama to watch these tapes. Watch a fully formed fetus on the able, its heart beating, its legs kicking, while someone says we have to keep it alive to harvest its brain," Fiorina said during the debate. "This is about the character of our nation. And if we will not stand up and force President Obama to veto this bill, then shame on us."
Slate subsequently accused Fiorina of "lying" after she directly challenged Hillary Clinton and President Barack Obama to watch the videos, while a writer at Refinery29 dismissed Fiorina's "graphic" and "upsetting" claims as "totally made-up."
However, Fiorina was not concocting the story out of thin air; most of the details that she described were recounted in an accompanying mini-documentary series also produced by the Center for Medical Progress.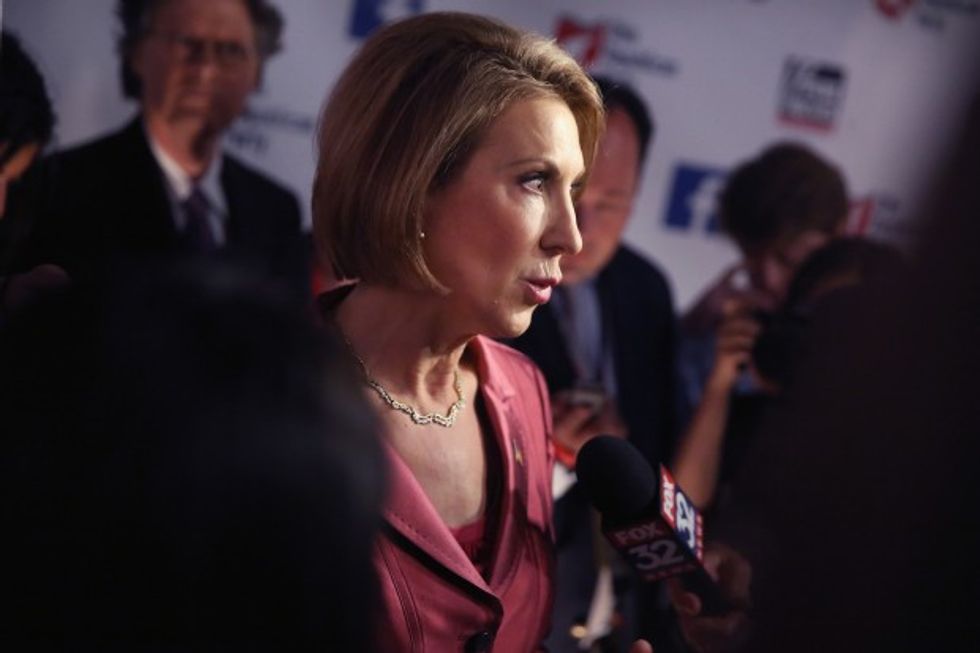 2016 Republican presidential candidate Carly Fiorina (Photo by Scott Olson/Getty Images)
Holly O'Donnell, a former blood and tissue procurement technician, described in the Center for Medical Progress' "Human Capital" documentary series how she once saw the heart of a baby still beating after an abortion.
"Since the fetus was so intact [my coworker] said, 'This is a really good fetus, and it looks like we can procure a lot from it. We're going to procure brain,'" O'Donnell says in the video. "She takes the scissors and she makes a small incision …  and goes, I would say to maybe a little bit through the mouth, and she was like, 'OK, can you go the rest of the way?'"
No images from the incident O'Donnell described were shown; however, there are other photos and clips interspersed throughout the video that feature late-term and stillborn fetuses unrelated to the incident that O'Donnell is speaking about.
Read more about the controversy here.