Kentucky county clerk Kim Davis, who ignited nationwide controversy for her refusal to grant marriage licenses to same-sex couples, spoke to ABC News Monday about some of the backlash she has received from the public.
"What's hurt you the most?" the reporter asked Davis.
"What people say about me does not define who I am. That's everybody's opinion and that's everybody's right," Davis replied.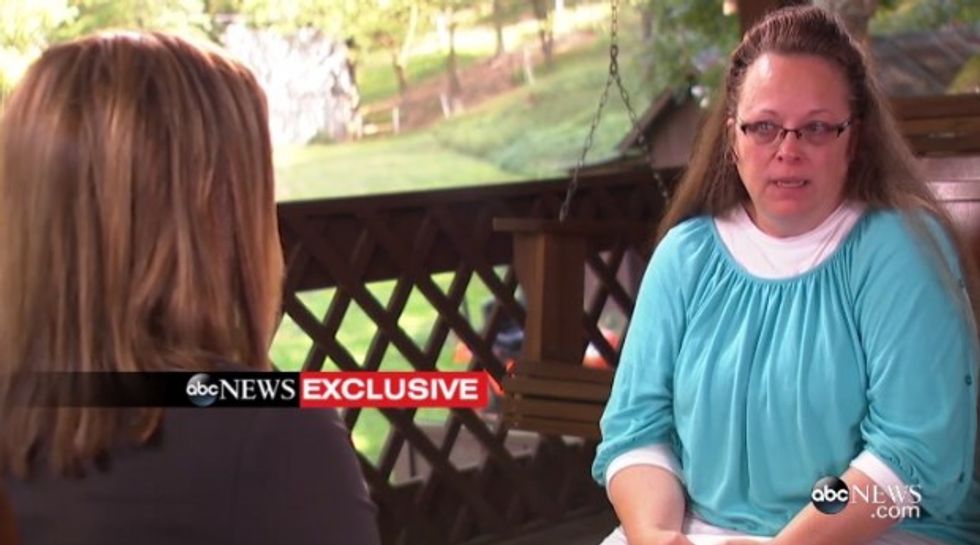 Image source: ABC News
She said people have called her Hitler, a hypocrite (she was divorced three times) and a homophobe.
"I've been called things and names that I didn't even say when I was in the world. Those names don't hurt me," Davis told ABC News. "What probably hurt me the worst is when someone tells me that my God does not love me or that my God is not happy with me, that I am a hypocrite of a Christian."
Kim Davis shows me the many pieces of mail she's received--she estimates over 20,000 pieces. #KimDavis @ABC @GMA http://t.co/RcdxMJe9bG

— Paula Faris (@Paula Faris) 1442876827.0
Davis was previously jailed earlier this month by a federal judge who found her in contempt of the court over her refusal to follow an order to issue same-sex marriage licenses. That task is now being carried out by her deputies with her name removed from the actual paperwork.
—