On the day that he meets with President Barack Obama at the White House, Israeli Prime Minister Benjamin Netanyahu will also accept an award from a conservative think tank whose scholars have expressed consistent and strident opposition to the Iran nuclear agreement as well as many other Obama administration policies.
The American Enterprise Institute announced late Monday that Netanyahu will receive its Irving Kristol Award, described as its "highest honor" which is "given to individuals who have made exceptional practical and intellectual contributions to improve government policy, social welfare, or political understanding."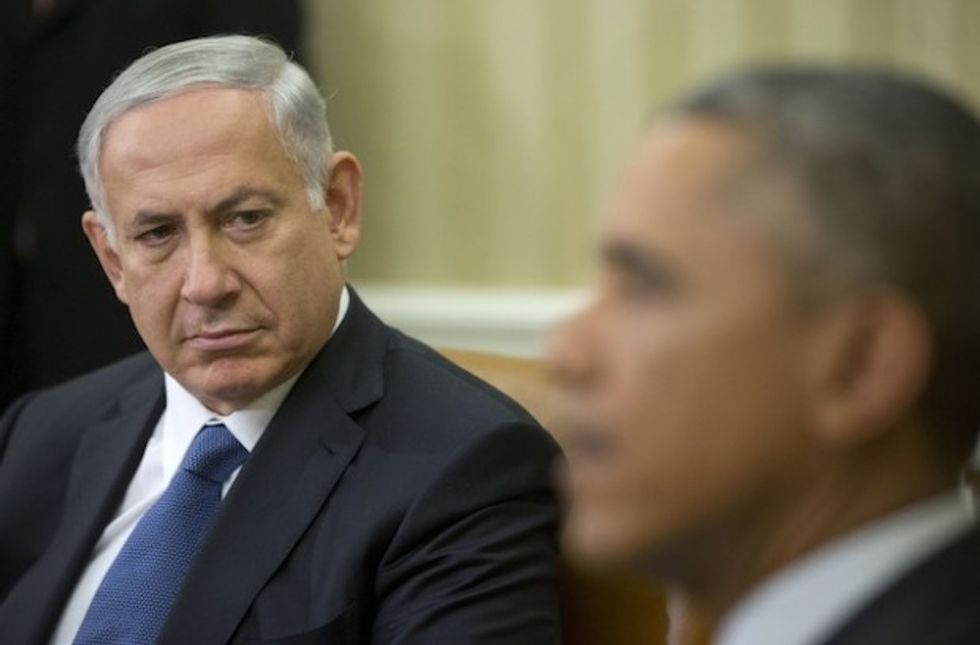 Israeli Prime Minister Benjamin Netanyahu meets with President Barack Obama at the White House in 2014. (AP Photo/Pablo Martinez Monsivais, File)
"Israel serves as a reminder that a commitment to free enterprise, democracy, human dignity, and the courage to defend one's values are the best model to lift up all people," AEI President Arthur C. Brooks said in a statement.
In accepting the award, Netanyahu will speak about the Middle East, U.S.-Israel relations, the Syria crisis, the rise of religious extremism and the mass migration from the Middle East war zones, AEI said.
"I look forward to receiving this award and discussing ways in which the unique friendship between Israel and the United States can continue to grow deeper and stronger as we confront the enormous challenges we face together," Netanyahu said in a statement.
AEI has published various articles in recent months skewering the Iran deal. Scholar Michael Rubin called the agreement "very bad" in a July piece titled, "How to kill the Iran deal." Danielle Pletka, AEI senior vice president, called it "troubling," and former United Nations Ambassador John Bolton wrote earlier this month that it poses "grave risks for the Middle East and the world."
Netanyahu is the world's leading opponent of the Iran deal, which he has said threatens the survival of Israel, and adamantly disagrees with the Obama administration's assertions that it will prevent an Iranian bomb. The Israeli leader has said that the deal will pave the way for Iran to develop nuclear weapons and at the same time help the Islamic regime provide more funds for its international terrorist proxies like Hezbollah.
The White House said last week that Obama when he meets with Netanyahu will discuss the implementation of the Iran agreement, to "peacefully and verifiably prevent Iran from acquiring a nuclear weapon, and countering Tehran's destabilizing activities."