After a series of garage and car break-ins that police couldn't seem to solve, neighbors in Dallas took matters into their own hands and worked together to catch the culprit.
It all began when Lenora Moffa noticed a suspicious person she didn't recognize opening car doors in the neighborhood on Monday, KTVT-TV reported. When she approached him, the young man closed the doors and took off.
"He starts taking off so I sprinted after him, and this is when it got really spectacular," Moffa said, recounting the moments her neighbors joined her.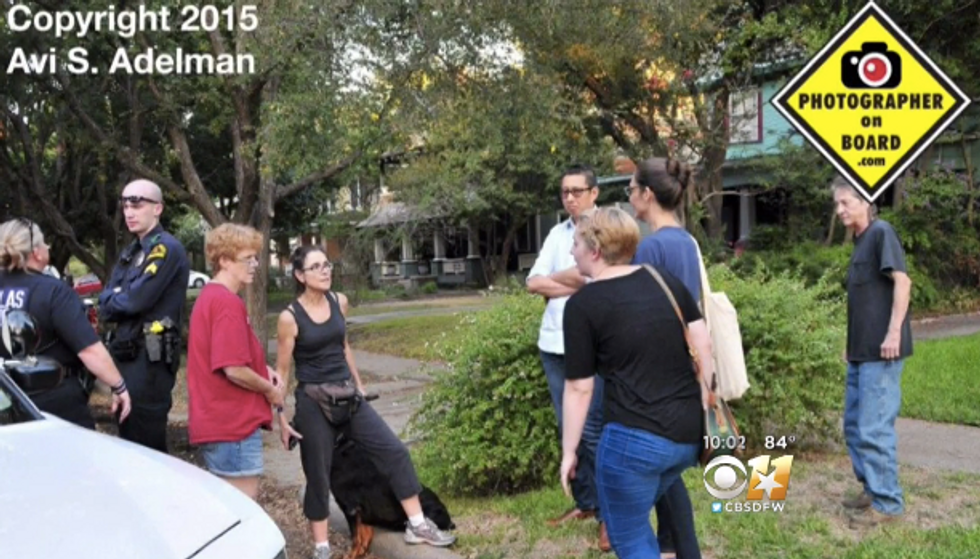 Image source: KTVT-TV
Resident Brenda Williams also gave chase to the teenager, and when he became belligerent, the older woman punched him. Brian Wong, another neighbor, helped the ladies and wrestled the burglar to the ground.
"And at that particular point in time, all of the neighbors just piled on top of him," Wong told KTVT. "And once the neighbors piled on top of him, he had it. Because somebody was sitting on him from behind, somebody was holding his leg, I had his arm. He couldn't move at that point."
"It was neighborhood solidarity," Moffa said.
KTVT reported that the neighbors kept the 16-year-old subdued until police arrived and took him away. The teenager, who has been charged with burglary, was one of three young men the neighbors had reportedly seen around the homes that the neighbors had been warning each other about online.
At least three of the neighbors suffered cuts and bruises from the altercation, KTVT reported.