Donald Trump deflected a question Wednesday about whether President Barack Obama was born in the United States, during an appearance on "The Late Show."
Host Stephen Colbert said he was tossing a "big fat meatball" to Trump, arguing that if the Republican frontrunner hit it out of the park on his show, it's likely he'd never have to answer the question again.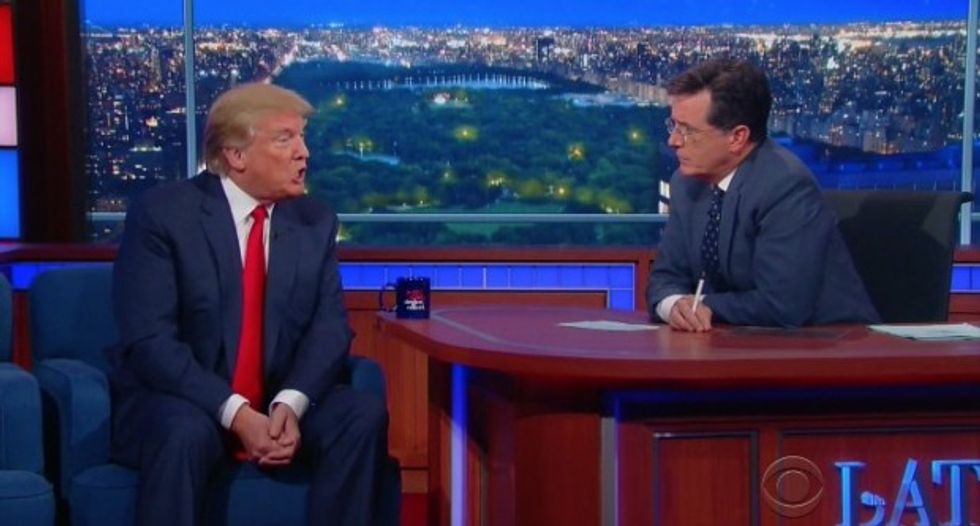 Image source: Screen grab via "The Late Show"
"Barack Obama, born in the United States?" Colbert asked.
"I don't talk about that anymore," Trump replied, saying he'd rather talk about more pressing issues such as healthcare for veterans and creating jobs.
Colbert, disappointed in his answer, joked that the "meatball was now being dragged down subway steps by a rat."
In the past, Trump had questioned whether Obama was born in the U.S. The real estate tycoon succeeded in putting so much pressure on the president that he ultimately released his birth certificate to settle the issue. Nevertheless, it has persisted. At a recent townhall event, Trump faced criticism for not correcting an anti-Muslim man who said Obama was not a citizen.
—
Follow the author of this story on Twitter and Facebook: