Hillary Clinton personally signed off on a special arrangement that allowed one her top aides, Huma Abedin, to work for the State Department and the corporate consulting firm Teneo simultaneously, despite the former secretary of state's previous claims.
Clinton was asked about Abedin being employed and paid by both organizations during a recent interview with NBC's Andrea Mitchell. The longtime Clinton aide was also working for the Clinton Foundation at the time.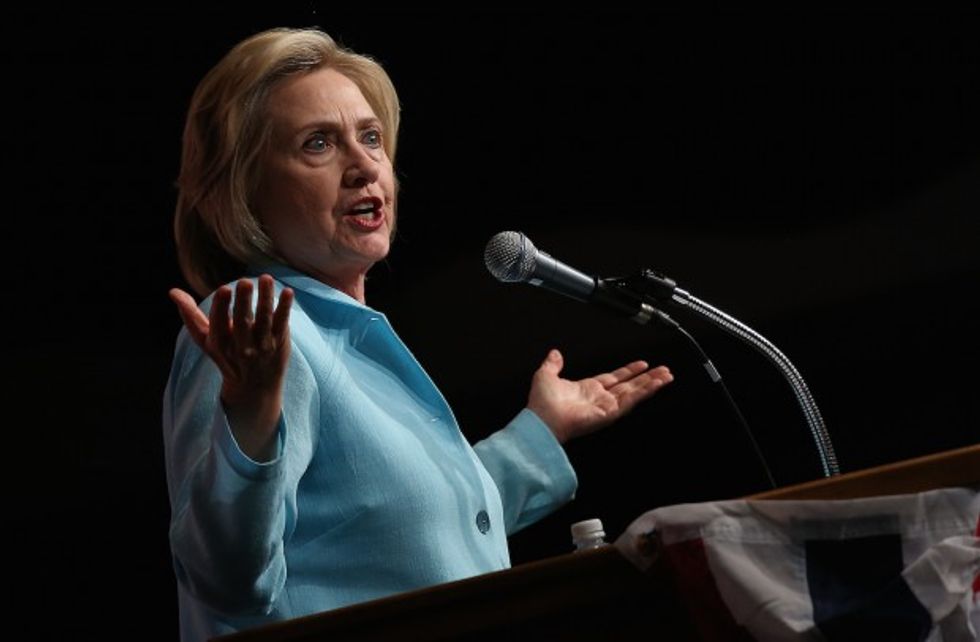 Image source: Win McNamee/Getty Images
"Well, you know, I was not directly involved in that," Clinton said in the Sept. 4 interview when asked about Abedin's employment deal. "But everything that she [Abedin] did was approved, under the rules, as they existed, by the State Department."
But new documents released Thursday by the conservative watchdog group Judicial Watch show that Clinton's claims are not accurate. According to the document, which the New York Times also later published, Clinton herself signed off on the arrangement she claimed she had no direct involvement in.
Further, documents obtained by Fox News show that Abedin discussed her work at the Clinton Foundation and Teneo on official channels. Senate Judiciary Committee Chairman Chuck Grassley (R-Iowa) said the arrangement raises questions about the "intersection of official State Department actions, private Teneo business, and Secretary Clinton's personal interest in fundraising for the Clinton Foundation and related entities."
According to the Times, the form Clinton signed was part of a larger process in which Abedin was transitioning as Clinton's deputy chief of staff into her new role as a "special government employee," which would allow her to work for and be paid by the State Department, Clinton Foundation and Teneo.
But the practice raises serious questions for Grassley, among others, who say it's hard for the government to keep track of which employees work where under such arrangements provided to Abedin.
"How can the taxpayer know who exactly SGEs are working for at any given moment?" Grassley told Fox News. "How can the ethics officer at the State Department know?"
The revelation came as Clinton, who is currently seeking the 2016 Democratic presidential nomination, now faces a number of questions related to her exclusive use of a personal email server while she was secretary of state and whether any of the emails she or her staff deemed "personal" in nature when they chose to delete them might have actually included government-related material.
The FBI is now investigating the matter and, reportedly, has uncovered at least some of the thousands of emails that were once believed to have been scrubbed.
A spokesman for Clinton declined to comment to the Times, and the Clinton campaign did not immediately respond to a request for comment from TheBlaze.
(H/T: Fox News)
–
Follow Jon Street (@JonStreet) on Twitter