MSNBC anchor Andrea Mitchell said she didn't get to ask Hillary Clinton all the email questions that she wanted to because she was afraid the Democratic candidate might cut the interview short.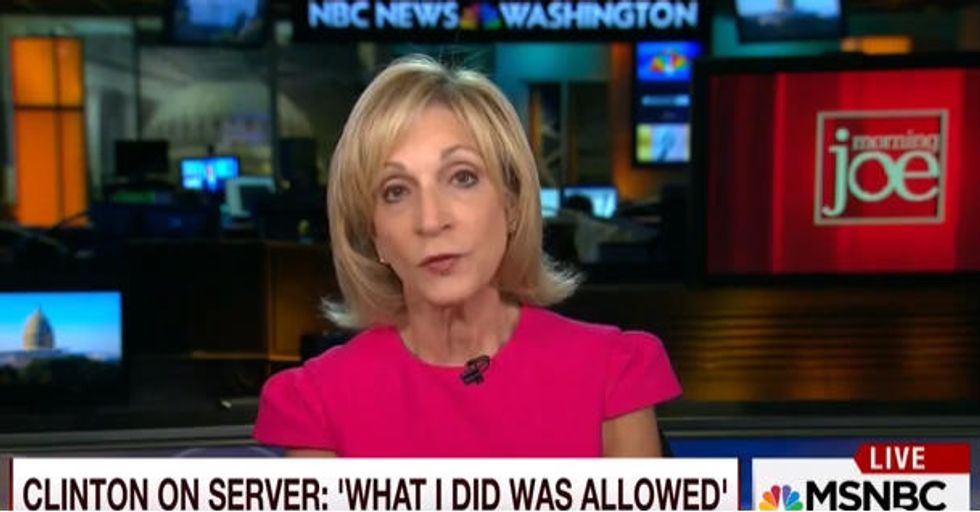 Image source: YouTube
"We were told we had a 15-minute interview," Mitchell, who interviewed Clinton on Friday, told the "Morning Joe" panel on Friday. "I asked more than 12 minutes on emails before I felt, out of concern that they would cut it off, obviously, that I had to move on."
"I couldn't ask everything that I did want to ask," Mitchell added. "But I think we did get a good chance to ask a lot of questions and discover that she did not have an answer for why she had the personal server in the first place."
Mitchell went on to point out that there are "a lot of reasons" why Clinton may have done it, but that she "hasn't answered it herself."
In an interview that aired on MSNBC Friday, Mitchell asked Clinton, among other things, if she wanted to apologize for using a personal email server to conduct government business while secretary of state.
Clinton didn't apologize, but said that it wasn't the "best choice."
"At the end of the day, I am sorry that this has been confusing to people and has raised a lot of questions, but there are answers to all these questions," Clinton said. "And I take responsibility and it wasn't the best choice."
(H/T: The Hill)
–
Follow Jon Street (@JonStreet) on Twitter