A gay couple says that Memories Pizza — the Indiana restaurant at the center of controversy earlier this year after its owner said she wouldn't cater a same-sex wedding — inadvertently provided food for their nuptials.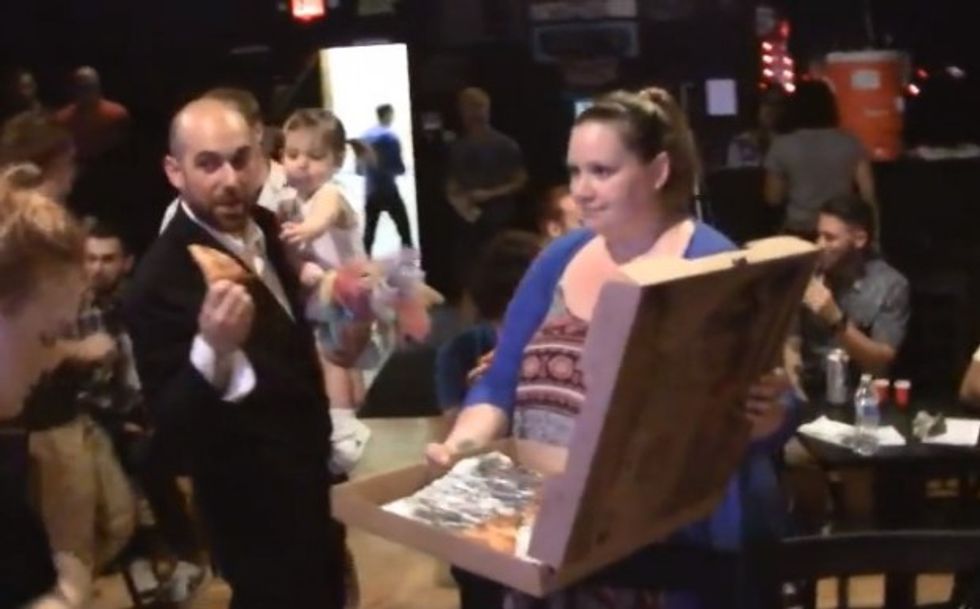 GayCo Productions/YouTube
Robin Trevino, a member of GayCo Productions, an Illinois-based comedy ensemble that focuses on LBGT issues, released a video documenting the drive from his home in Illinois to Walkerton, Indiana, where he bought two large pizzas from Memories.
"Memories Pizza will be catering our gay wedding," he says in the clip. "They have no idea that this is going to happen, but it's happening."
Trevino recorded his purchase of the pizzas at Memories, declining to tell staff members at the pizza shop that the food would be served at his wedding reception.
"Can I order two large pizzas for carry-out?" Trevino said as he placed his order.
He then brought the pizzas back to Illinois, where he and his husband, Jason Delgatto, served it as part of their legal wedding ceremony on Sept. 26, according to the Friendly Atheist blog.
"Okay, Memories, thanks for catering my gay wedding," he proclaims in the clip.
Of course, the business seemingly had no idea what the pizzas would be used for when the order was placed.
Watch the video below:
The clip, which is posted on the GayCo Productions YouTube page, is part of a "50 States of Gay" series that the ensemble is producing to celebrate the legalization of same-sex marriage.
Repeated calls to Memories Pizza seeking comment went unanswered.
Crystal O'Connor, one of the shop's owners, made headlines earlier this year after she said, "If a gay couple came in and wanted us to provide pizzas for their wedding, we would have to say no."