The cameras in a Florida courthouse captured the dramatic moment a woman learned that the former cop she had accused of rape was found not guilty on all charges.
Former Boynton Beach police officer Stephen Maiorino, 36, was cleared on four counts of sexual battery, armed kidnapping, unlawful compensation or reward by an armed police officer. He could have faced up to two life terms in prison, if convicted, WPBF-TV reported.
The 21-year-old accuser could be heard sobbing and screaming "why?" as she left the courtroom. Family members surrounded the woman so that she wasn't visible as they walked down a hallway.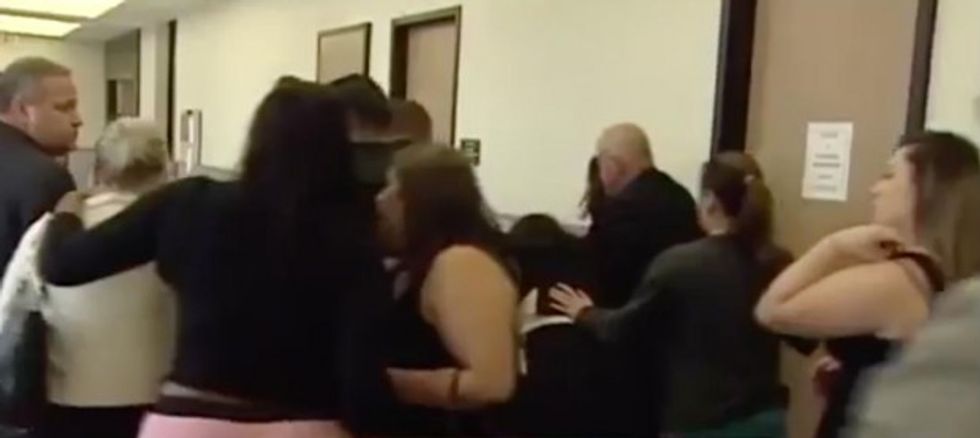 Image source: WPBF-TV
Jurors had deliberated for 10 hours over the course of two days to arrive at their verdict.
Michael Salnick, Maiorino's lawyer, said the couple had sex on the hood of his patrol car last October after the woman went to the former the cop about her friend being arrested but that the intercourse was consensual. He also pointed out a number of inconsistencies in the accuser's stories.
Meanwhile, back in the courtroom, Maiorino buried his head in his hands, relieved by the verdict. The married father of two small children had spent the past year in the Palm Beach County Jail.
He was released from custody Tuesday afternoon.
Melissa Maiorino, Stephen Maiorino's wife, reacted to the verdict, telling WPBF-TV, "I'm just glad this nightmare is over [and] that justice prevailed."
Melissa Maiorino said she had "100 percent" confidence in her husband all along that we was innocent.
(H/T: WPBF-TV)
–
Follow Jon Street (@JonStreet) on Twitter