Jerusalem Mayor Nir Barkat on Thursday said it's "imperative" that Israelis with gun licenses go out armed — as he does — in order to defend against Palestinian terror attacks.
"I think it's important that gun carriers who are skilled and have experience carry their weapons with them, especially given the [current] tension," Barkat told Israel's Army Radio.
"I think that to carry a gun today with a license when one knows what he's doing with it is an imperative and, in a way, like [military] reserve duty," Barkat added.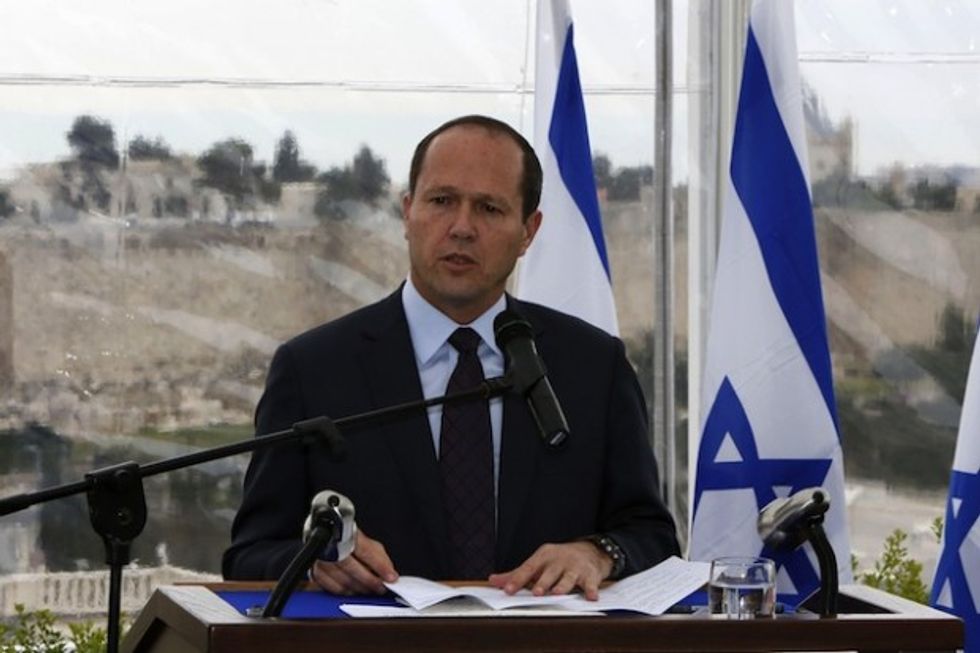 Backdropped by Jerusalem's Old City Ottoman walls, Jerusalem Mayor Nir Barkat speaks to the press Feb. 23, a day after Barkat and his bodyguard apprehended a young Palestinian who stabbed an ultra-Orthodox Jew in Jerusalem. (Gali Tibbon/AFP/Getty Images)
The Jerusalem municipality earlier issued a statement urging residents with licensed firearms to carry their weapons in light of the major increase in Palestinian terror attacks over the past month. Barkat's office noted that he serves as a "personal example" and carries his weapon when he heads out.
Barkat's office said that the mayor, who is a licensed and trained gun owner, was carrying his weapon during a recent visit to a predominantly Arab neighborhood in east Jerusalem.
"Many terror attacks in Jerusalem have been prevented or neutralized due to the quick actions and response of responsible bystanders," the municipality said.
Hours after Barkat spoke, a 19-year-old Palestinian stabbed and seriously wounded an Israeli rabbinical seminary student near the national police headquarters in Jerusalem. Israel Police spokesman Micky Rosenfeld said that the suspect was in police custody.
There has been a surge in stabbing, shooting and rock-throwing attacks on Israelis over the past month, with at least four violent attacks just on Wednesday. All of the Palestinian attackers in those incidents were stopped in different cities by either police, soldiers or citizens.
The mayor of the Israeli capital made news in February when he personally tackled a knife-wielding Palestinian outside his office. The attacker had just stabbed a Jewish pedestrian.