CNN's Wolf Blitzer confronted Ben Carson on Thursday with audio from a past radio interview in which the GOP presidential candidate recalls his encounter with an armed robber and suggested he contradicted his recent statement that he "would not just stand there and let" a gunman shoot him.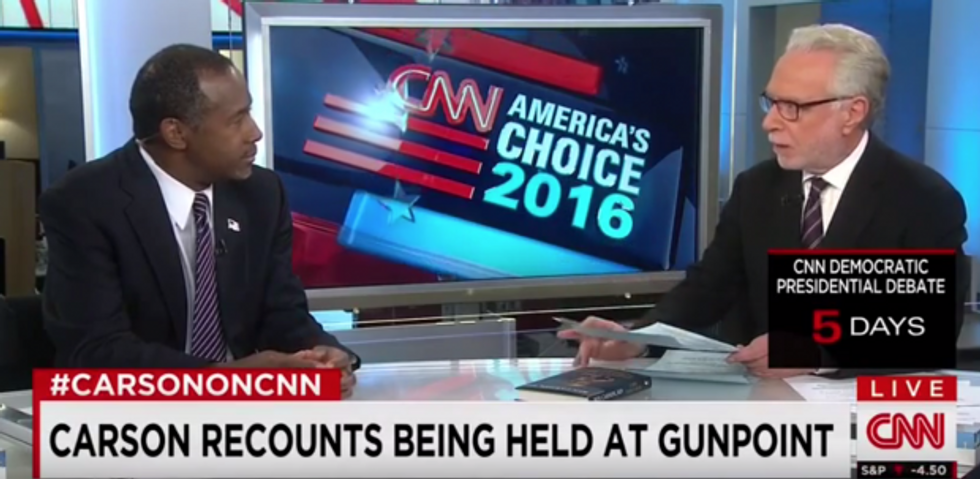 CNN
Here's what Carson said in the interview on SiriusXM's "Urban View" radio show:
"Guy comes in, puts the gun in my ribs, and I just said, 'I believe that you want the guy behind the counter.'… He said, 'Oh, OK.'"
Reacting to the audio, Blitzer claimed "that sounds counter to what you're recommending right now," referring to his remarks on the Oregon shooting.
"That's a completely different situation," Carson shot back. "This is somebody who comes into a joint to rob it, not somebody who is sequentially killing people."
"But you didn't know that he was just going to rob the joint," Blitzer said. "He potentially could've killed you."
"I did know that," Carson insisted. "Maybe this is a level of sophistication that people learn from living on the streets, but I knew that guy was not there to murder everybody."
But Blitzer continued to press, asking the Republican candidate how he could have possibly known the robber wasn't going to kill him.
Finally, Carson said the incident occurred a "long time ago" and Blitzer moved on to a new "controversy."
Watch the segment via CNN below:
---