Comedian Amy Schumer went after pro-gun Americans in a "Saturday Night Live" sketch that portrayed gun enthusiasts as people obsessed with guns throughout important life events.
In the fake advertisement, guns were the central focus of people's lives even throughout a pregnancy, touching moment between a grandfather and grandson and a first date.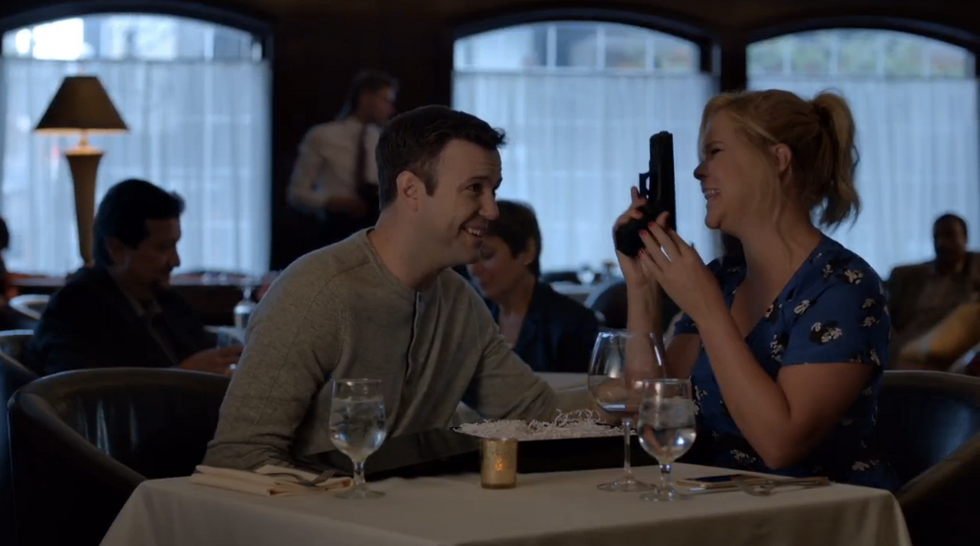 Image source: NBC
"When things fall apart or it all comes together, they unite us, comfort us, bring us joy and strength," the advertisement said.
In one scene, a man gave a woman a gun on a dinner date. In another scene, a woman seems empowered as she runs through a park brandishing two guns.
"From first loves to new beginnings. Wherever life takes you: Guns. We're here to stay."
From first loves to new beginnings. Wherever life takes you: Guns. #SNLpic.twitter.com/ZbDjQ7n0YT

— Saturday Night Live (@nbcsnl) October 11, 2015
Schumer hosted Saturday's venerable comedy program, and in the sketch her anti-gun opinion shone through.
"Unless something is done and done soon, dangerous people will continue to get their hands on guns," Schumer said after a movie theater shooting in July. "We need a background check system without holes and fatal flaws. We need one with accurate information that protects us like a firewall. The critics scoff and say, 'Well, there's no way to stop crazy people from doing crazy things,' but they're wrong. There is a way to stop them. Preventing dangerous people from getting guns is very possible. We have common-sense solutions. We can toughen background checks and stop the sale of firearms to folks who have a violent history or history of mental illness."
Watch the "SNL" sketch below.